Tributes paid to Francis Golding, who died four days after colliding with a coach in central London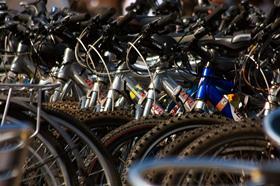 Architecture expert and former Cabe chief executive Francis Golding has died following a collision with a coach while cycling in central London.
Golding and the coach collided at the junction between Southampton Row and Theobalds Road in the borough of Camden last Tuesday at around 6:40pm.
The 69-year old was then taken to St Mary's Hospital for treatment but was pronounced dead on Friday 8 November.
The coach stopped at the scene but the driver was not arrested.
Golding was not a qualified architect but had worked with the industry for years. He was previously the head of properties for English Heritage and sat on the International Council of Monuments and Sites.
He also served as secretary of the Royal Fine Arts Commission before becoming the chief executive of the Commission for Architecture and the built Environment (Cabe), the organisation that replaced the Royal Commission.
Former RIBA president and co-founder of architect Penoyre & Prasad Sunand Prasad worked with Golding when he was at Cabe and said he was "shocked" to hear the news of the death of his friend.
He said: "What Francis brought to architectural culture was a very fine eye and a belief in the power of architecture to make a huge difference [to people's lives] in what it looks like not just what it does."
He praised Golding's "passion" for beautiful buildings and his "fantastic" work in transitioning the Royal Commission into Cabe.
Golding also worked as a consultant on Rogers Stirk Harbour + Partners' schemes One Hyde Park; the Leadenhall Building; the British Museum World Conservation Centre and Neo Bankside.
Graham Stirk, senior partner at Rogers Stirk Harbour + Partners, said he was "deeply saddened by his tragic death"
He added: "Francis was central to our key London buildings over the last decade. His great ability was the way he understood and articulated how contemporary architecture could enrich an urban historic setting.
"We used to meet on a weekly basis on The Leadenhall Building project, I learnt a great deal from him and enjoyed his dry sense of humour."
Cindy Walters, director of architect Walters & Cohen, praised Golding's work as a "mentor" to the practice ever since it entered a competition to design the Faulklands war memorial in Berkshire, run by the Royal Commission. The pair subsequently worked together on several further projects.
She said: "He believed in us and supported us. He was a mentor and friend and an inspiration. He was astute in his judgement and he was someone I would call for advice. I don't think our practice would be where it is without his support and help."
Walters added that there was "nobody out there like him" in the industry.
The Metropolitan Police are appealing for information on the incident and can be contacted on 020 8842 1817.