Poll from Green Deal Dialogue group shows that large sections of the House of Commons have not engaged with energy-efficiency scheme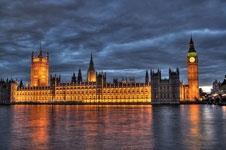 Half of MPs have no plans to help promote the Green Deal in their constituencies, a survey suggests.
The poll of 100 MPs by the Green Deal Dialogue group, whose members include developer Land Securities, roof window product specialists Velux and the Glass and Glazing Federation (GGF), found 21% were unlikely to promote it, 20% had "no plans" and 11% were unsure.
Neil Pennell, head of sustainability and engineering at Land Securities, said: "It is clear from the survey that a lot of work needs to be done to sell the Green Deal to MPs as a viable mechanism for funding energy efficiency improvements in the domestic sector."
He added: "The case for Green Deal in the commercial property sector is even less well developed and unless a compelling case can be made we believe that take up will be very low."
The survey also found that while 59% of the MPs understood the principle of the scheme only 30% understood its funding structure. A further 35% did not know how it would be paid for.
Nigel Rees, chief executive of the GGF, said: "While the Green Deal becomes more complex, the level of understanding will not improve. If MPs cannot understand the scheme, then how can we expect homeowners to understand it?"