David Kerr headed-up plans for the Thames estuary airport for the engineer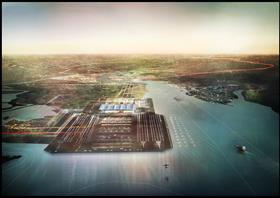 David Kerr, director at engineer Halcrow, who headed-up the firm's work on the Thames Hub airport plan, has retired from the company.
Halcrow has been working on the development of plans for a Thames Hub airport alongside architect Foster + Partners and economist Volterra.
Kerr has been, alongside Lord Norman Foster, a figurehead of the scheme. Launching the plans last November he said: "Great challenges require bold solutions, which is why I believe our Thames Hub vision is critical to society and to the country's economic prosperity.
"If we don't sustain and invest in infrastructure, then it's at our peril. If the UK is to remain globally competitive, these proposals need to be seriously considered."
Halcrow director Ben Hamer will take over the lead of the project for the engineer. Hamer has been working as project director on the Thames Hub scheme.