Clients, architects and occupiers are increasingly focused on how a building makes its users feel. A recent webinar revealed current best practice and future trends in the emerging field of evidence-based design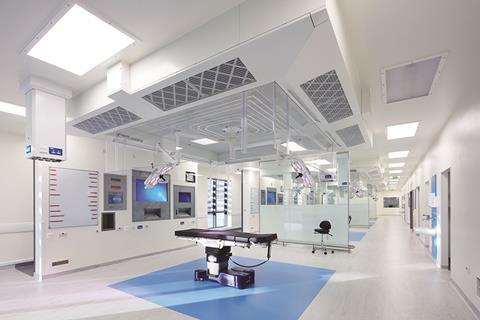 It has permeated every facet of modern life, but despite the digital revolution in our daily lives, when it comes to optimising the design of the spaces where we live, companies are only now catching on to the crucial role that data can play. Spearheaded by the healthcare sector, companies are making use of evidence-based design as well as pre- and post-occupancy evaluations to help inform the design palette for their offices, hospitals and schools.
A recent webinar - held in association with British Gypsum and Building - discussed how data can be used to help design spaces that perform optimally for their users, and how this will change in the future.
Spacelab's director of workplace consultancy Rosie Haslem says that firms have started to realise how data-driven pre-occupancy consultations can analyse their workplace needs and lead to more pro-active designs.
Haslem says: "There is an increasing awareness from clients of the value of understanding people and space before engaging in the design process in order to get it right. We look to understand how a space works for people, and can use the data to test out how a flow within an office works."
Activity-based working
A key part of the change in attitudes to the workplace has been the shift from a desk-based environment to an activity-based work approach. To assist in the design process, Spacelab has amassed a database of over 30,000 separate employee and workplace spatial surveys over a 10-year period to understand what drives both social interaction and productivity in an office environment.
The database revealed that the modern work desk was occupied on average for only 44% of the working day. Instead, employees were interacting across the office space mostly in a haphazard way, with 66% of interactions unplanned in nature. Haslem adds: "Work is no longer about the fixed desk, it is more important to look at the types of facilities people need to work efficiently."
According to Haslem, connectivity and interaction is key to a successfully integrated office design. However, instead of scrapping the tenancy agreement and looking for new space, firms can adapt their existing space to enhance connectivity.
Dubbed "intervention architecture" the method seeks to adapt offices through reconfiguring break-out spaces, adding in stairwells within the floorplate or re-aligning internal walls to create an open atmosphere.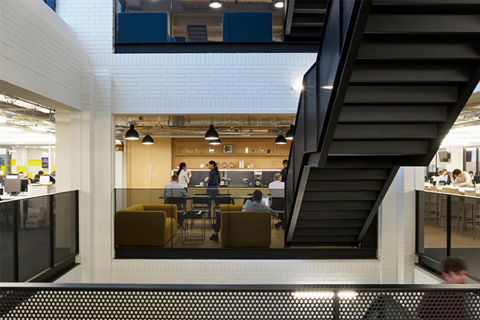 Haslem adds: "If you give people the right spaces they can solve issues as they arrive, and sparks of innovation happen in those ad-hoc situations which you may not have.
"We're trying to counteract the siloed nature of working which happens with segregated walls. In those situations workers can feel separated from other parts of their own business."
The approach has been adopted by a number of tech firms including Google, whose flexible campus approach to its Californian HQ in Mountain View has employee connectivity at its heart. In the UK a number of office projects have taken the same principles on board. At 22 Bishopsgate, AXA and developer Lipton Rogers have included double-height spaces into the designs as well as flexible floorplates for tenants who are looking to adopt activity based working environments in the new space.
Wellbeing
However, a well designed office is no guarantee of a successful working environment. According to webinar speaker Monica Parker, founder of workspace consultancy HATCH, emotional wellbeing of employees is of equal importance for a successful workspace: "Emotion can feel a little elusive as a business concept but it is an absolute critical process.
"People and property are the two biggest cost centres of any business and the engagement of humans in the space is of paramount importance."
HATCH has taken the traditional POE one step further to include not just an evaluation of an office's physical elements, from the light bulbs to the loos, but also visual privacy and acoustics.
Parker stresses that even the best-designed spaces will be used incorrectly if the culture of a company does not embrace it: "If the culture has not been developed to use those spaces in the way the design was intended then it falls down. It becomes obsolete despite the design effort put into it."
Central to its research is the attachment to a particular space that employees have within a working environment. Research found 80% of people feel they lack fresh air quality within their office while 71% said they don't take time out of their work day to think independently or have space to do so.
Advocating a holistic approach to the workplace environment allows firms to gauge their employees emotional response to their physical environment. Parker adds: "To me it is about the human experience of space and how we are facilitating that experience."
Though post-occupancy evaluations may sound like a lofty ambition for many firms investment in wellbeing, evidence-based design has begun to pay dividends.
Health
Working with the NHS, the Department of Health and other clients architecture, planning, engineering and technology firm IBI Group has used evidence-led design to change the layouts of surgeries and hospitals to improve patient care and help drive cost savings.
Some changes implemented by IBI included giving patients views of nature from the wards to boost recovery times, others incorporated dimmed lighting to improve
MRI scan process speeds.
By looking at the design interventions and the positive outcomes, IBI also found that by simply playing music to the orthopaedic patient group during surgery fewer patients needed sedatives, (14% with music compared with 44% without) which sped up the operating time, reduced risk and allowed more patients to be treated.
"These are all cost savings and life savings basically. These interventions really do make a difference," says Richard Mazuch, architect and senior director of design research at IBI Group. "We can see reduced anaesthesia, which reduces risk, reduces recovery time and reduces cost significantly.
"We had a letter from Barts NHS Trust which said that once we introduced dimmable lighting to the MRI scan room it allowed them to see six times the number of patients in a week."
IBI is continuing to collate and distil down and learn from the data it has collected from previous projects.
Mazuch adds: "We'll continue to distil the data to improve the working methods. There is always more we can do."
In the field of using data to improve user experience of buildings, much has been achieved across many sectors - but there is certainly still more to do.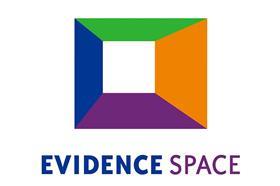 For more information on post occupancy evaluation and evidence-based design see www.evidencespace.com
Listen to the webinar at www.building.co.uk/webinars