Former Kier executive goes as retirement specialist hit by £60m of coronavirus charges
Retirement housebuilder McCarthy & Stone has axed one of its chief operating officer roles as the covid-19 crisis sent the firm crashing into the red in the first half.
Nigel Turner joined at the start of last year following two decades at Kier, where he was charge of its property business, after the firm decided to split the COO role previously held by chief executive John Tonkiss.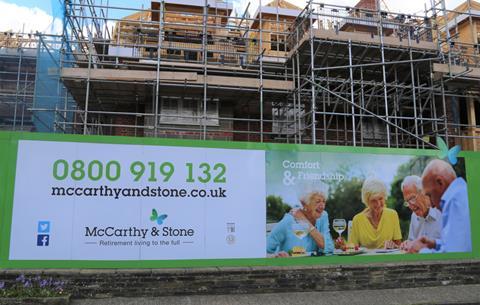 Turner was COO for its building operation while former Automobile Association chief executive Mike Lloyd, who also joined at the start of last year, was chief operating officer overseeing customer-facing services.
But McCarthy & Stone said it was now sticking with just Lloyd with the company's four divisional managing directors, who are responsible for all build operations, now reporting directly to Tonkiss.
The rejig comes as the firm nosedived into the red with the firm sinking to a £91.3m pre-tax loss in the six months to April from a £3.6m profit last time. Revenue during the same period was down 64% to £101m.
It said its underlying loss was £26.9m from an £18.9m profit loss last time but exceptional items of what it said were covid-19 costs of £60.3m, centred on goodwill and impairment, sent it plummeting further into the red.
It said the lockdown saw the number of completions during the period fall by 44% to 471 with the firm warning: "While we have passed the peak of the crisis, the financial effect will be weighted towards H2."
The firm, which employs around 2,500 people, said 17 out of its 44 sites are now up and running with a further 37 scheduled to restart by the year end.
It added that it was starting to bring back some of its furloughed employees in build and sales and had secured a £300m Covid Corporate Financing Facility at the beginning of last month.
McCarthy & Stone said it has cancelled its 2019 dividend payment.
The firm's current chief financial officer Rowan Baker, who is joining Laing O'Rourke later this year, is being replaced by Martin Abell from pharmaceutical and services company Clinigen at the beginning of next month.