Consultant will act as cost consultant on hotly-anticipated £80m scheme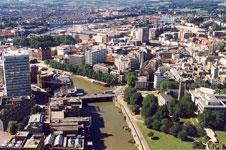 Aecom has been appointed cost consultant and employer's agent on the hotly-anticipated £80m Bristol Arena by the city's council.
Andrew Langmaid, head of Aecom's project, cost and consultancy team in Bristol, said: "The Bristol Arena is going to put the city firmly on the indoor venue map.
"By drawing on our extensive experience in arena construction, we will help ensure that Bristol City Council delivers a best-in-class, multi-purpose entertainment venue that will complement and enhance our world-class city."
Aecom has recently worked on a number of similar projects, including the recently completed First Direct Arena in Leeds and the under-construction Copenhagen Arena.
Stuart Woods, Bristol City Council's project director for the arena, said: "We are delighted to appoint Aecom as cost consultants on the scheme, and we look forward to working with them as the project develops."
Aecom was appointed through the South-west consultancy framework, and will work with Bristol council to complete the business case and find an operator.
Bristol secured £11m of funding to invest in connecting infrastructure for the scheme from the Homes & Communities Agency last month, after the funding was approved by the Treasury in the spending review.
Mayor George Ferguson has pledged to hold an architectural competition for the 11,000-seat indoor arena, which will be the flagship project in the Temple Quarter Enterprise Zone
The HCA, Bristol City Council and West of England Local Enterprise Partnership (LEP), which are collaborating on the project, believe the arena will breathe new life into a badly connected piece of the city.
They predict it could bring nearly 65,000sq m of new employment space, 300 homes, around 2,600 jobs and £200 million in private sector investment to the city.