Exclusive: Consultant strengthens commercial and industrial sector team with four heavyweight figures from rivals WSP, Skanska, Arcadis and Arup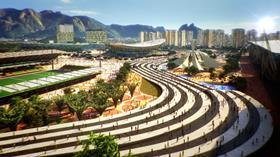 Aecom has recruited four heavyweight figures from rivals WSP, Skanska, Arcadis and Arup to strengthen its commercial and industrial sector teams.
Peter Williams is joining Aecom on 1 September to lead its building engineering business in Europe, Middle East and Africa (EMEA).
Williams was WSP's UK head of building services and before that worked for 10 years at Arup, where he became leader of its 700-strong London-based building engineering team.
He has experience on high-profile London commercial schemes, including Unilever House, Central St Giles and More London, and will report to Aecom's global chief executive of building engineering David Glover.
Craig Sparrow is joining Aecom from Skanska to take up a global leadership role in its buildings and places division. Sparrow will work on integrating Aecom's various consultancy services into a project-focused approach.
At Skanska he was head of green business and managing director of Skanska Technology.
Jon Emmerson is joining Aecom from Arcadis to head its automotive sector work, as part of Aecom's buildings and places industrial market sector leadership team. At Arcadis Emmerson was head of the UK automotive sector. He will be based in Aecom's Birmingham office.
Finally Christopher Buck has also joined Aecom's industrial leadership team, after 14 years at Arup.
Glover said: "All four [appointments] have excellent reputations in their respective industries and will be great additions to our growing business.
"As well as bringing their expertise and a huge wealth of experience to their teams, each is also a multidisciplinary advocate, committed to helping us develop Aecom's unique integrated offering."
The news comes as Aecom confirmed its extended role on the design and masterplanning of the Rio 2016 Olympic park (pictured).
As Building first revealed in April, Aecom - which was made Olympic park masterplanner alongside UK architect Wilkinson Eyre in August 2011 – has now been contracted to carry out design development work on seven of the park venues, including engineering and architecture, as well as designing park infrastructure and landscaping.
Jason Prior, head of buildings and places at Aecom, said: "This is such a high profile and complex project for Aecom, which brings many exciting opportunities and challenges.
"We are drawing on our experience from being masterplanners of the London Olympics to take the design of the Rio venues and park even further, which will hopefully be reflected in the end result in 2016."
This week Aecom also won a role on the £15bn Riyadh metro project.