Regional chief Lara Poloni begins tenure by bringing in company veteran to head up UK business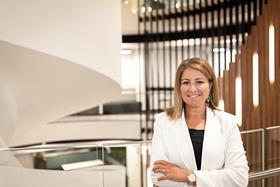 Aecom's new boss for Europe, Middle East, India and Africa Lara Poloni has started her reign with a restructure of its top level management in the region.
David Barwell, who previously headed up its business in the Middle East and India for eight years and has spent 16 years at the business overall, has been appointed chief executive for the UK and Ireland.
His predecessor Patrick Flaherty, who spent nearly three years in the role, will now head up the consultant's integrated management services division which is understood to be based in London.
In his new role Flaherty will develop and support Aecom's work on major remediation and defence programmes in the security and nuclear sectors across EMIA.
Barwell has been replaced by Hamed Zaghw as boss of Aecom's Middle East operations, while Avinash Misra takes over his responsibilities in India.
Aecom's head of civil infrastructure for EMIA Richard Robinson is also taking on the role of chief operating officer for EMIA.
Australian Poloni (pictured) took up her role at the start of last month, moving to London over the summer after spending more than 20 years at the firm's Australia and New Zealand business which she eventually ended up running.
In a statement, Aecom said the leadership changes had been made to "better support growth and drive a focus on clients, technical excellence and innovation".
Last month the firm said it wanted to extend to the UK and Europe an initiative under which it has acted as investor and developer on a number of schemes in the US over the past four years.
It is the first time the $17bn (£13.2bn) turnover firm has rolled out a version of the initiative, which was launched as Aecom Capital back in 2013, in the UK and Poloni said the idea was intended "to create some of the projects and bring to the table schemes that can make a difference".
Earlier this month, Aecom reported record turnover of $18.2bn (£13.8bn) and a pre-tax profit of £429m (£325m) – nearly two-and-a-half times 2016's figure – for its financial year ended 30 September 2017.
Revenue for its design and consulting services operation was down a percantage point to $7.8bn (£5.9bn), while its construction arm posted a 15% increase in turnover to $7.3bn (£5.5bn). Revenue at its management service business was broadly flat at $3.3bn (£2.5bn).