Government aims to change the way nuclear design, development and construction programmes are delivered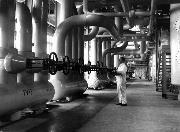 Engineering group Amec Foster Wheeler has been handed a £2.9m government contract to boost British's expertise in designing nuclear power stations.
The funding from the Department for Business, Energy and Industrial Strategy (BEIS) will be used to establish a UK Digital Reactor Design partnership.
This will use virtual engineering and high-performance computing to enhance the techniques used to design reactors and optimise their performance, according to Amec Foster Wheeler.
The project aims to achieve a "step change" in the way that nuclear design, development and construction programmes are delivered, said the company.
It will be working closely with the University of Manchester and Nuclear Advanced Manufacturing Research Centre on themes relating to nuclear structural materials and design codes and standards.
Clive White, president of Amec Foster Wheeler Clean Energy, said: "We are delighted to be working with BEIS and our partners to establish a virtual network that will enhance the techniques used in reactor design, in assessing how reactors will perform during their operating life and how this can be optimised."
The University of Liverpool's Virtual Engineering Centre, the Hartree Centre, National Nuclear Laboratory, Rolls-Royce, EDF Energy, the University of Cambridge and Imperial College London will be working with the company on the project.
White added: "We will be bringing together expertise from industry and academia combining the latest digital techniques, such as virtual engineering, with advanced multi-physics modelling and simulation expertise. The objective is to enhance reactor design capability and assist UK industry to play a crucial role in our future energy security."