EC Harris' parent company increases underlying profit by 5% in first quarter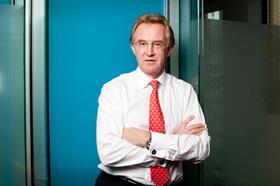 Global engineering group Arcadis has posted a 5% rise in underlying profit for the first three months of the year and predicted its UK business, which includes consultant EC Harris, will "continue to do well" this year.
The firm posted a 5% rise in underlying profit to €41.6m (£34.3m) for the first quarter, up from €39.6m (£32.6m) the previous year, while revenue declined 2% to €588m (£484m), down from €602m (£495.6m).
Arcadis, led by chief executive Neil McArthur (pictured), said its operating margin increased to 9.6%, up from 9.2%.
The firm said "barring unforeseen circumstances" it expects to increase revenue and profit in 2014.
The firm added: "We are experiencing an overall positive start to the year and expect Emerging Markets and the UK to continue to do well and foresee a gradual return to growth in Europe. In North America, we expect a recovery in the second half of the year."
In the first quarter the firm said it benefited from "strong growth" in emerging markets "with Asia and the Middle East doing particularly well", while "the UK also performed well and revenues stabilised in Continental Europe".
Arcadis said its Latin America division was held back by a decline in the Chilean mining market.