Around 40 practices from across the world including Europe, US and Chile express interest in £400m competition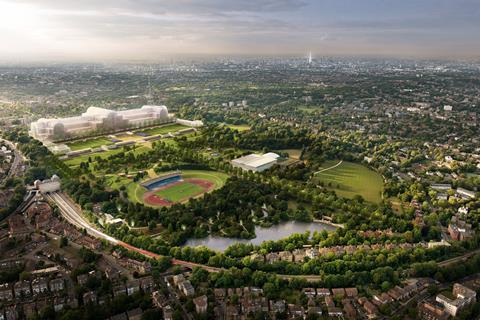 The £400m competition to recreate the original Crystal Palace as a south London landmark has attracted expressions of interest from just under 40 architects on three continents.
A wide range of practices has entered, based in the UK, USA, France, Germany, Denmark, Chile, Italy and The Netherlands.
Up to five teams will be shortlisted this spring and asked to prepare a more detailed submission and presentation.
The selected architect, due to be appointed in the summer, will work closely with the lead consultant, Arup.
Colander Associates is running the competition for the Chinese company behind the project, ZhongRong International Group.
Director Caroline Cole said: "The interest in this major opportunity from practices of all sizes and types across the UK and world is highly encouraging. We look forward to supporting the panel as they select the first shortlist for this exciting project."
She said the sheer complexity of the project might have deterred some practices from entering. The far smaller Geffrye Museum competition attracted nearly 140 entries.
The Crystal Palace selection panel will include RIBA president Stephen Hodder, the chair of New London Architecture, Peter Murray, Hank Dittmar, Tim Smit and John Sorrell as well as Boris Johnson and the mayor of Bromley.
The original palace was designed by Joseph Paxton as a temporary structure for the Great Exhibition held in Hyde Park in 1851, when it was the world's largest glass structure.
It was rebuilt as a permanent structure on Penge Common in 1854 but it burnt to the ground in 1936.
The proposal is to recreate it in a way that is faithful to the spirit of the original, "in all its ingenuity, scale and magnificence", with a similar footprint and translucent, delicate structure.
Its backers say they want it to become a cultural centre of international standing.