Remediation work to clean soil will not now be finished until the end of this year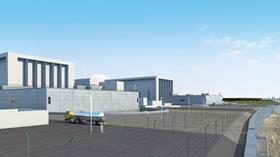 Dealing with asbestos contamination has caused a five month delay in work at EDF Energy's Hinkley Point C nuclear power station project in Somerset, EDF has confirmed.
Joint venture Kier Bam was expected to start major earthworks at the site this summer but client EDF has found extensive asbestos contamination in the soil at the site, which it said it does not expect to clear up until the end of the year.
The soil became contaminated with asbestos during the construction of neighbouring nuclear plants Hinkley Point A and B in the sixties and seventies.
EDF said major earthworks could not start until the asbestos had been removed from the soil.
A spokesperson for EDF said: "We anticipate that this work will be completed towards the end of this year due to the amount of materials needed to be cleared, after which large-scale earth-moving activities should commence."
"Ensuring both the safety of the site and of our staff and contractors is our top priority," he said.
The firm added it was also close to appointing a preferred bidder to carry out the £1.2bn main civils package, which is being contested by contractors Balfour Beatty in partnership with Vinci and Laing O'Rourke in partnership with Bouygues.