Airport operator announces departure of Steve Morgan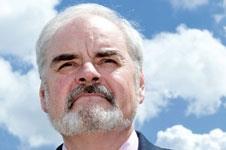 BAA capital director Steve Morgan is to leave his post at the end of this month, the airport operator has said.
Morgan, a former US Navy rear admiral specialising in logistics and acquisitions, was responsible for BAA's capital and procurement programmes.
A BAA spokeswoman said Morgan had resigned.
He will be replaced by John Holland-Kaye, BAA's current commercial director.
Holland-Kaye said he was looking forward to leading the infrastructure team.
"We're spending £1bn a year on capital investment to transform Heathrow into a hub airport that Britain can be proud of," he said.
"We have improved significantly over the last few years, but there is more to be done - we have many changes planned which will improve passenger experience at Heathrow, the biggest of which is Terminal 2, which will open in 2014. "
Both Morgan and Holland-Kaye joined BAA in 2009.
Morgan had previously been British Nuclear Fuels' commercial director at Sellafield, prior to which he worked for Westinghouse and the US Department of Energy.
Holland-Kaye is a former Taylor Wimpey divisional CEO, before which he held a number of positions at Taylor Woodrow. He takes on the capital director role on 1 November.