Growth this year will be ravaged by Carillion collapse and bad weather, CPA warns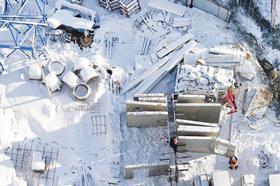 The collapse of Carillion and the freezing weather earlier this year will see output in 2018 shrink by 0.6%, according to the latest prediction from the Construction Products Association.
Brexit and retailers' high street woes – last week operator Hammerson said next January's start on Laing O'Rourke's revamp of the Brent Cross shopping centre in north-west London had been pushed back again – have also played havoc, the CPA said in its summer forecast.
The CPA estimated that Carillion's implosion and sites being forced to shut down as the Beast from the East took hold in February and March meant £1bn worth of work went down the drain.
The news means the CPA is predicting output will have fallen for the first time in six years – although the CPA expects it to begin heading north again next year with 2.3% growth in 2019 and a further 1.9% growth the following year thanks to a spending boom in private house building and infrastructure.
But the CPA said without the forecast growth in private housing activity and infrastructure, total construction output would fall by 3% in 2018 and remain flat in 2019.
House building is set to be the driving force in construction, with Help to Buy, which was extended last October by prime minister Theresa May to 2021, pushing output up this year by 5%.
Infrastructure is also set to see growth, with investment in the HS2 railway, the new Hinkley Point C nuclear power station and Crossrail, which is due to run its first services at the end of this year, all helping nudge output up 3% this year.
CPA economics director Noble Francis added infrastructure would be a bedrock of growth over the coming years. "Firms working on major infrastructure projects have a lot of work in the pipeline: infrastructure output is forecast to rise by 13% in 2019," he said.
But he warned: "As ever, there remain concerns about government's ability to deliver infrastructure projects without cost overruns and delays."
Francis said the decision to leave the EU had hit investment in offices with output here expected to be down 20% this year and by a further 10% next year. Brexit uncertainty was the "elephant in the room" he said and added: "It badly affects demand in sectors such as prime residential in London, commercial offices towers and industrial factories, which is dependent on manufacturing."
The growth of online retailers such as Amazon had put the brakes on new retail construction with this sector set to slump 10% in 2018, the CPA added.