Joint venture is believed to have been selected by EDF for electrical and cabling works worth at least £500m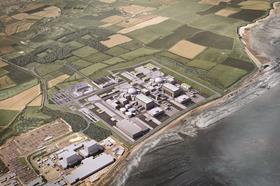 A joint venture between Balfour Beatty and NG Bailey is preferred bidder on a contract worth at least £500m for a large part of the mechanical and electrical works on the proposed £16bn Hinkley Point C power station.
Separate sources close to the process said the joint venture had been selected, with Hinkley developer EDF understood to have selected it some time ago and been working up plans with it under early contractor involvement work packages since.
Despite having made the selection, French utility EDF is thought to have not announced Balfour Beatty-NG Bailey as a preferred bidder because of the ongoing uncertainty around the project, with EDF still to make a final investment decision.
The M&E package, which covers electrical works and cabling for the power plant's controls and instrumentation is thought likely to be worth a minimum of £500m, though no final contract price is thought to have been agreed. One source said the job will require a workforce of 600-700 for three to four years, with thousands of miles of cabling to be laid within the nuclear plant. "I'd be surprised if it was that cheap," the source said.
Balfour Beatty and NG Bailey announced they had signed a joint venture for nuclear work in 2012. At the time, David Hurcomb, chief executive of NG Bailey, described the JV as "a positive move" for potential nuclear customers. "Nuclear new-build contracts need to be carried out by the most experienced contractors such as Balfour Beatty Engineering Services and NG Bailey, whose expertise and knowledge will ensure the delivery of these complex projects," he said.
A joint venture between Bouygues and Laing O'Rourke has already been selected for the £2bn main civil engineering contract on the job, with a joint venture between Kier and Bam selected for the earthworks package, and Costain bagging the marine works.
Construction of the nuclear plant has been repeatedly delayed amid EDF's concerns over its returns and the rising cost of its other new build nuclear plants in France and Finland. Extra funding has now been brought in from Chinese investors, and one source close to the process said the government was now targeting the end of October for a final investment decision.
Balfour Beatty and NG Bailey referred enquiries on the story to EDF; EDF declined to comment.