The firm is due to be onsite from next week
Balfour Beatty is set to restart work on the Birmingham hospital job which has lain dormant since Carillion collapsed in January.
Papers published ahead of today's board meeting of the Sandwell and West Birmingham Hospitals NHS Trust revealed the country's biggest contractor had been chosen to deliver the early works contract at the hospital.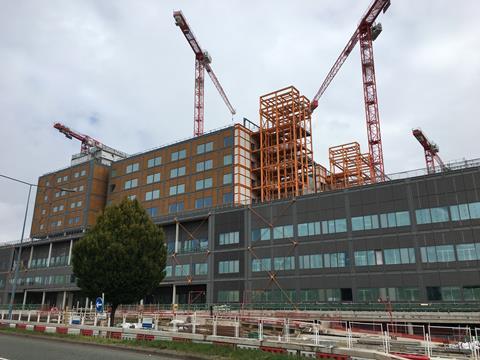 In his summary of organisation wide issues trust chief executive Toby Lewis said: "The contract for our interim building work – to weatherproof the building and develop the design – has been awarded to Balfour Beatty."
Balfour will be on site from 8 October, with work due to commence by 22 October. The work is expected to take six months.
At the time of procuring the contract the trust said the full scope of works required was not yet known, while the value of the contract was anticipated to be between £13m and £20m. The early works programme was intended to run until the end of May next year but could be extended by mutual agreement for a further period of up to six months.
Contractors looking to bid for the project needed to generate turnover of at least £80m.
The trust's papers also revealed that the search for a permanent replacement for Carillion is likely to get underway in November, while it is eyeing a completion date of mid-2022.
Firms which have already turned down the chance to finish off the job include Skanska and Galliford Try. But another, Kier, has said it is looking at the scheme.
It has also been revealed that five Carillion leadership staff have been taken on by the trust to aid in the delivery of the hospital.