Balfour Beatty made two requests for more money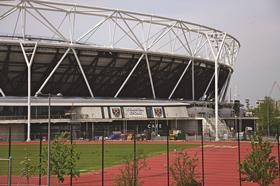 Balfour Beatty received an extra £69m due to escalting cost during their work on the Olympic Statdium, a new report has found.
The report, which was commissioned by the Greater London Authority, has revealed the contractor twice requested more money from the London Legacy Development Committee (LLDC) during the project.
The first demand came in 2014 when issues arose around the costs of altering the stadium's roof in time for the 2015 Rugby World Cup, with the second occuring in 2016.
The two settlements, together with other agreed changes, brought the total payable to Balfour Beatty to £223.13m, almost 45% more than the initial estimate of £154m.
The report states "there was an early realisation that the capital costs would exceed the original budget, i.e. it was underestimated".
As the contractor believed the LLDC to be contractually responsible for the escalated costs in changing the roof, Balfour Beatty placed a claim for £203.7m, which was £50m more than the original estimate.
Based on the potential financial issues, as well as the potentil damage to the Legacy's reputation if events were cancelled, E20 and LLDC pursued a compensation agreement of £190m.The settlement agreed was at £189.9m.
The second dispute arose in April 2016, when Balfour Beatty served a £19m claim for delay and disruption and temporarily suspended work on the site.
The claim for delay and disruption arose from three main issues, including the impact of Alto's liquidation, which led to the delayed removal of retractable seating from the field of play.
LLDC, supported by Mace, considered the reasonableness of the costs associated with the Balfour Beatty claim; LLDC and Mace estimated costs at £4.5m. The groups reached a £12.25m settlement for the second dispute.
In response to the report, Balfour Beatty said in a statement: "Balfour Beatty successfully completed the complex transformation of the iconic former London Olympic stadium into a multi-functional world class sporting venue in 2016.
"Creating over 1,700 job opportunities at peak, works included installing the world's largest cantilever roof, halo turnstiles, concession stands and more. All work completed was agreed and delivered with the London Legacy Development Corporation (LLDC) with additional costs mutually agreed as a result of additional scopes of work."