Contracting giant to restructure M&E business after identifying deepening problems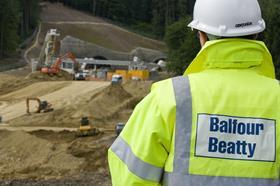 Contractor Balfour Beatty is to scale back its UK M&E business after identifying a further £35m hole in its profit expectations for the year.
In an unscheduled trading update this morning, the firm said it had seen a "further worsening in the trading performance of the mechanical and electrical engineering part of our UK construction business" since the firm's May interim management statement, leading to a £35m profit shortfall from the business.
Today's announcement is the latest in a series of profit warnings at the contracting giant, which in May culminated in the departure of chief executive Andrew McNaughton and the decision to sell the firm's consultancy arm, Parsons Brinckerhoff.
Balfour said the profit warning was the result of £20m of deepening losses on problem contracts already identified, and a further £10m of new problem jobs.
In addition it said the firm was currently being so conservative in the new M&E work it was taking on that it was expecting £5m less profit from new orders in 2014.
The statement said a number of factors have contributed to this further deterioration, including "design changes, project delays, rework on projects and contractual disputes on a number of projects."
The firm said it would make up the shortfall in profits with additional disposals of PPP assets, meaning it expected overall profits for the year to hit expectations.
Balfour Beatty's M&E division makes up just 10% of the turnover of its UK Construction Services business.
The statement said: "Given these issues, we are reviewing the size and geographic footprint of the [M&E] business with the aim of ensuring a smaller, more focussed business.
"In central London, Engineering Services will only be working with Group companies where it can influence design and add value for customers."
Balfour Beatty said it was on a 12-18 month programme to restore its UK construction business, and that outside the M&E business the regional and major projects division were performing in line with expectations.
The firm said the sale process for Parsons Brinckerhoff was "fully underway" and on track, and that it's order book was unchanged at £12.9bn.
Average net debt was higher than expectations at £420m.