Contractor appointed by the Education and Skills Funding Agency to build five scondary schools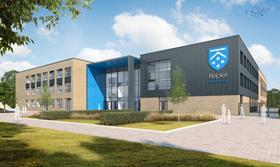 Bam Construction has been appointed as the preferred bidder to build five secondary schools in the north east England in a deal worth £67m.
The appointment was made by the Education and Skills Funding Agency (ESFA) for the Capital Frmework North East Batch A of priority schools.
The sample school in the batch is Kepier in Houghton Le Spring. The future schools are English Martyrs School and Sixth Form College and High Tunstall College of Science in Hartlepool; Whickham School in Newcastle upon Tyne and Durham Community Business College.
Lead achitect is Ryder, while BAM Design (Architectue & Structures) is appointed to undertake two of the schools and BAM Design three schools.
The ESFA manages £54bn of funding a year to support all state-provided education for 9.6m children, of which £17m has been earmarked by the government to improve schools with the most urgent condition need and increase school stock.