The housebuilder will use modern methods of construction at Leyland site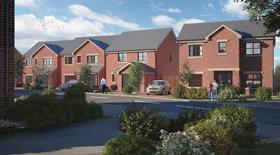 Lovell Partnerships has been given the green light for its £45m Altcar Lane development in Lancashire.
The plans to build 200 new homes using modern methods of construction (MMC) in Leyland were approved by South Ribble Borough council last week with work set to start on the 9ha green-field site later this year.
Lovell bought the site from Homes England in March this year.
Stephen Kinsella, executive director for land at Homes England, said: "Once on site, Lovell will utilise a closed panel pre-insulated timber frame system as part of MMC.
"This tried and tested method of off-site manufacture will aid pace, ensure the control of quality and minimise site wastage. The system will be pre-insulated to further aid pace and remove the need for additional subcontractor on site, reducing labour time and cost."
Altcar Lane is one of a number of national risk sharing projects under the government's 'Accelerated Construction' initiative which will see new homes delivered within 36 months.
Lovell will create 140 homes for open market sale and 60 affordable homes through its partner Together Housing Group.
The overall scheme is set for completion in 2021 with the first homes expected to be available for sale next summer.