Firm completes highest number of homes for a decade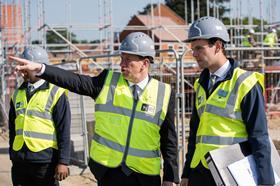 Barratt says it has completed the most number of homes in a decade in a trading update published this morning.
The country's biggest housebuilder said it finished 17,579 homes in the year to June – its best performance for 10 years.
But the number was up by just over 1% from the previous year's number of 17,395.
The firm said it was expecting to post a record £835m pre-tax profit – a rise of 10% on 2017's £765m – when it publishes its annual results on 5 September.
Barratt also confirmed it would be paying special dividends of £175m in November 2018 and 2019 as part of its five-year plan to return £1.9bn to shareholders.
Thomas added: "This has been another strong year for the group, both financially and operationally."
The firm said its private average selling price rose 5% to £329,000.
It said trading in central London had been better than expected. Since May it completed sales on 190 homes at an average selling price of £1,190,000.
Earlier this year, chief executive David Thomas (pictured, middle) told Building it has stopped buying sites in the zone one and two areas of London and is concentrating on zones three to six, where it is building 1,100 units at a former Nestle factory in Hayes and a further 1,500 units close to the railway station in Harrow.