A dozen towers planned for Shoreditch site, with campaigners saying scheme is "big, ugly and not fit for purpose"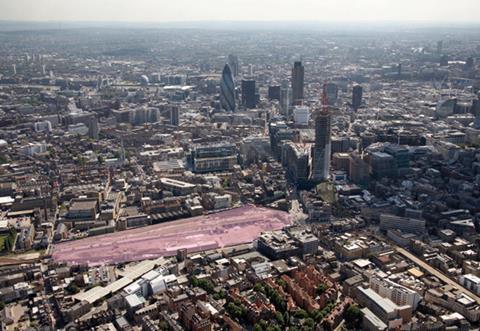 A campaign group opposed to a Farrells masterplan for a huge tall tower-led redevelopment of Bishopsgate Goodsyard has said the proposals resemble "London's most reviled modern buildings".
A public consultation with the two planning authorities – Tower Hamlets and Hackney – ends in less than two weeks. In all, 12 towers are proposed for the 4.2 ha site on the edge of Shoreditch, ranging from just under 24 metres through to 180 metres tall.
Among those lined up to work on the £800m scheme are Farrells and PLP with four residential towers of 46, 42, 34 and 30 storeys proposed. Two more towers of 24 and 16 storeys are planned as well.
As well as 1,464 homes, it will also include new shops, offices and a park.
Farrells is also set to work on a series of office blocks planned at the site, including two buildings of 14 and 12 storeys while Faulkner Browns Architects is working on the scheme's retail element.
Chris Dyson Architects is responsible for the historic properties – two of the Goodsyard's structures are grade II listed – with Spacehub line dup for the park.
But local campaign group More Light, More Power is asking locals to write to the local authorities and object to the proposals.
Spokesman David Donoghue said of the Farrells scheme: "It's big, ugly and not fit for purpose.Generic Hong Kong-style skyscrapers are proposed for Shoreditch, with shadows taking us back 100 years.
"A project of this size and profile should be a leader in mid-rise development and progressive architecture. These building designs veer uncomfortably close to London's most reviled modern buildings."
According to the planning application submitted by planning agent DP9, the four tallest towers will provide just over 1,000 apartments of the planned 1,464 units.
The scheme is being jointly developed by Hammerson and Ballymore Group who want to include parts of the goodsyard's grade II-listed Braithwaite Viaduct into the development.
Managing director of Ballymore UK John Mulryan told the Hackney Citizen: "You don't get a chance to open up such a large slice of London for public use very often, so we are keen to make this a flagship development.
"Londoners will get the chance to enjoy this important part of the capital's heritage after years hidden from view. We want to create a great place to live, work and visit."
The site was damaged by fire in the 1960s and has been derelict ever since. It is currently used by a five-a-side football teams and as a Boxpark retail venture.
This story first appeared on Building Design