Contractor was drawing up plan to fix faulty glazing when it went bust
A property investor has been left to foot an estimated £4m bill to repair faulty glazing at Manchester's tallest tower completed by Carillion more than 12 years ago.
Ground Rents Income Fund, which owns the freehold of Beetham Tower (pictured), is set to cover the costs to fix the problems which were first discovered in 2014 – eight years after the bust contractor completed work.
Earlier this month, a High Court judge found against Ground Rents Income Fund's subsidiary, North West Ground Rents (NWGR), in a case with leaseholder Blue Manchester Limited (BML), which runs the Hilton hotel in the tower that runs across the first 23 floors of the tower.
NWGR was ordered to pay £250,000 towards BML's costs with Judge Stephen Davies telling it to take down unsightly site hoardings which have been up for close to three years.
The judge said BML was also entitled to damages caused by the release of dirty water into the water supply of the building due to a lack of maintenance.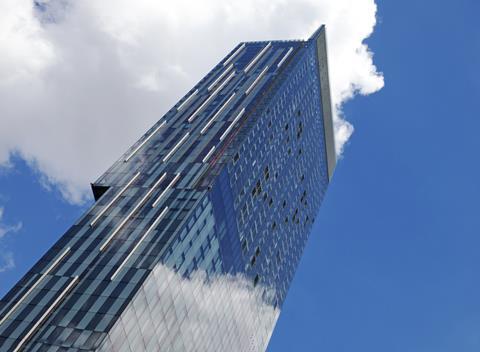 This week Malcolm Naish, the chairman of Ground Rents Income Fund, which is listed on the London Stock Exchange, said the hoardings would be removed within days.
He added: "The cost of the permanent remedial works to the facade of Beetham Tower has been estimated by NWGR's advisers, based on their recommended solution, to be approximately £4m."
He said Carillion and its specialist subcontractor, German firm BUG-Alu Technic which designed and installed the façade, had were in the final stages of drawing up proposals to fix the problem when Carillion went bust.
Naish added: "NWGR is pursuing the proceedings it has already issued against Carillion through its insurers and the sub-contractor BUG, through existing warranties and indemnities, which, if successful, would greatly limit any potential liabilities or irrecoverable losses for NWGR.
"However, in order to comply with the judgement NWGR will be required to finance the remedial work and any litigation costs while seeking recovery from Carillion's Insurers and BUG."
Problems with the glazing first emerged back in 2014 when sealant used to bond the glass panels to a unitised frame which was hung from the edge of the floor slabs of the building began to fail.
BUG has been contacted for comment.