London mayor wants special dispensation for capital to retain powers to set its own efficiency targets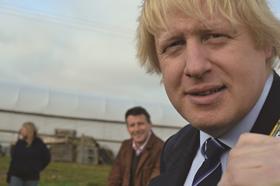 London mayor Boris Johnson is lobbying the government to allow him to keep his powers to demand high energy-efficiency standards for developments in the capital – powers the government plans to remove from all local authorities.
The government's Housing Standards Review proposes to abolish local authorities' ability to set their own efficiency targets over and above those set by Building Regulations, although they may be able to choose from a specified set of national standards. Consultation on the review closed in October.
But the London Plan, which sets rules for development in the capital, already specifies that all developments have to be 36% more carbon efficient than 2010 Building Regulations and Johnson is keen to keep this target.
The government's proposals would all but decimate London's green planning framework
In a submission to the consultation, seen by Building, the mayor's office said: "London developments are … demonstrating that the carbon compliance level could be more stretching without undermining viability."
It added: "Going through a similar cumbersome process again to adopt a nationally described set of standards would be a considerable drain on time and resources, and result in considerable uncertainty within the development sector and for housing delivery in London."
Last week Johnson told the London Assembly that ministers from the communities department had now agreed to meet Greater London Authority officials to discuss special dispensation for London so it could keep its own carbon reduction targets until 2016.
Syed Ahmed, director of the campaigning organisation Energy for London, said London's sustainability policy was "leading the world" and that the government's proposals "would all but decimate the green planning framework [the mayor] has helped create in London".
Andrew Warren, director of the Association for the Conservation of Energy, said: "The only reason London has been able to set these higher energy standards was due to the Planning and Energy Act which [communities secretary Eric] Pickles championed when in opposition, but now seems determined to neuter."