Mark Wild says host of fit-out jobs including critical communications network not yet finished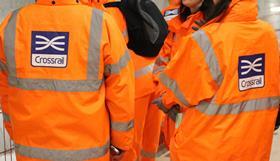 More than 1,000 CCTV cameras and 6,000 loudspeakers need to be installed and tested across Crossrail's central London stations, the man charged with completing the £17.6bn project has revealed.
In a letter to the London Assembly, Crossrail chief executive Mark Wild has laid bare the extent of work required to make the stations operational.
In the letter, which was sent as a monthly update to the chair of the Assembly's transport committee Caroline Pidgeon, Wild said: "The other major challenge [beside fit-out, testing and commissioning] at stations is completing the extensive communications systems installation that we need to deliver an operational station.
"Each Elizabeth line station has over 50 km of comms cabling, 200 CCTV cameras, 66 information displays, 200 radio antennas, 750 loudspeakers and 50 help points. All this technology needs to be fully installed, tested and integrated."
There was some good news in the progress report, with Wild saying most of the main package of works had now been completed at Tottenham Court Road Station.
Wild said main contractor Laing O'Rourke had achieved its "substantial demobilisation" date on 25 February.
Teams working on both Tottenham Court Road and Farringdon, being built by a Kier-led team, had started testing and commissioning and were completing the final fit-out.
But he added other stations were still behind. He said: "At Paddington and Bond Street [both being built by Costain/Skanska], on the other hand, there is still mechanical and electrical installation fit-out work underway."
Wild also reiterated the fact there was no possibility the central section of Crossrail would be open in 2019 due to the extent of work that still needed to be completed.