Last March Andrew Wolstenholme gave 'no indication' scheme could be late, according to Joanne McCartney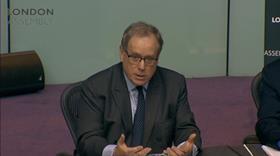 The deputy mayor of London has accused ex-Crossrail chief executive Andrew Wolstenholme of misleading London Assembly members at a meeting just before he left in March 2018.
Joanne McCartney made the remarks in the assembly chamber this morning, when the transport committee grilled former Crossrail executives about why the project was revealed to be £2bn over budget and more than a year late just months before it had been due to open.
She said: "You briefed us on Crossrail [on 6 March 2018] and from my memory it was all positive; there was no indication that there was any risk or anything which could stand in the way of a December opening date.
"Some of us, looking back, do feel we were misled."
Wolstenholme (pictured) responded: "We always try to give a balanced view, and I find it very unlikely that we didn't. [The risk] should have been communicated."
But McCartney hit back: "My memory is certainly different, because if we had been aware of those risks, we would have raised them sooner."
The transport committee's chair, Caroline Pidgeon, also revealed Transport for London's (TfL) remuneration committee had disagreed with Wolstenholme's performance-related pay.
Wolstenholme was paid an £161,385 bonus in 2017/18, on top of a £476,772 base salary and £98,000 for loss of employment.
He told the transport committee he was unaware of the TfL remuneration committee's objections, and added that his pay had been set out by the Crossrail board and linked to performance goals.