Latest phase of multi-storey scheme features brick construction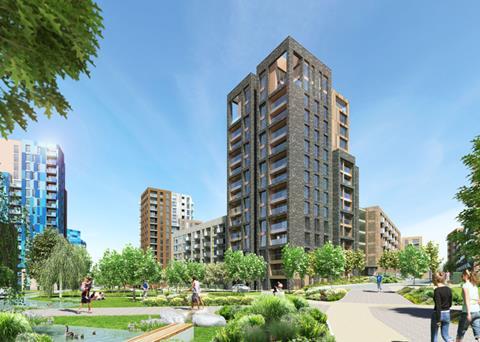 Architecture practice BPTW has won planning permission for the latest phase of their £270m scheme to regenerate a Lewisham council estate.
Lewisham Council granted approval last week for the detailed design of the Central Park scheme's fourth phase, which will provide 236 modern apartments in blocks ranging from 6 to 15 storeys.
The units are part of an overall masterplan for housing association Family Mosaic, which is designed to more than double the number of homes on the former Heathside and Lethbridge estates to 1192 dwellings.
Along with the rest of the buildings in the latest phase, the 15-storey tower will be built using bricks.
Pete Woodford, associate at bptw said: "Phase 4 is an unashamedly brick-led scheme, which not only draws from the design of its predecessors but also respectfully responds to the traditional vernacular in the adjacent Blackheath area."
Rob Warwick, regeneration manager at Family Mosaic said: "Our aim is to develop a new community and high quality design is key to this aspiration. We feel that we have achieved this with bptw."
As well as designing the scheme, BPTW have also acted as planning consultants since the inception of the project, securing approval for the masterplan and all subsequent phases. Construction work on phase four is expected to start in early 2015.
More than 50% of new homes in the Central Park scheme are being targeted for private sale in a bid to cross-subsidise the construction of affordable housing to replace the council existing estate.
The outline scheme also includes 512sq m of retail floor space, 768sq m of community floor space and an energy centre.
Ardmore Construction acted as Family Mosaic's contractors on Central Park's second phase.