Every stadium still under construction for the 2014 Brazil World Cup will miss Fifa's original deadline of 31 December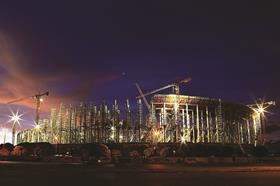 Sports Minister Aldo Rebelo said the six venues - in Sao Paulo, Curitiba, Porto Alegre, Cuiaba, Manaus and Natal - would be finished in January.
Earlier this week, Fifa - world football's governing body - admitted that three of the six would not be ready in time and agreed to extend its deadline.
Brazil's preparations have been hit by construction problems along with mass public protests about the money being spent.
The World Cup kicks off on 12 June in Sao Paulo's Arena Corinthians, where two people died last week after a construction crane collapsed.
Speaking yesterday (4 December), Rebelo said: "There are delays but they will not be significant. What matters is that we are ready to go in January."
And he compared the World Cup preparations to organising a wedding.
"In every wedding that I attended the bride was late. I've never seen a bride arrive on time - but never saw a marriage that didn't go ahead."
Brazil's other six stadiums were opened ahead of last June's Confederations Cup.
However, in a more recent BBC interview, Fifa general secretary Jerome Valcke appeared to contradict Rebelo, saying two stadiums may not be finished until March.
Asked whether there was any point in Fifa setting deadlines, he replied: "That's a good question. I agree, that's a good question.
"You are expecting that they understand what we need and that they will play the game by saying 'guys we are together' - and that's the disappointment."