But overall construction output inches up, according to ONS figures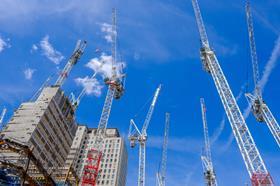 Brexit has been blamed for a lack of new work coming forward across in the first quarter of 2019.
There was zero growth in new work across the first three months of the year, according to the latest figures from the Office for National Statistics.
The biggest fall came in March, the month the UK was due to exit the EU, when new work contracted by 1.8%.
Increases in infrastructure and public other new work of 5.6% and 3.3% respectively across the quarter were countered by decreases in private commercial and housing new work.
These fell by 4.7% and 1.2% respectively.
Clive Docwra, managing director of McBains, said: ""This reflects that many investors are still deferring decisions on projects until Brexit is resolved – and we're perhaps further away than ever on certainty and finality in that regard."
Overall construction output grew by 1% in the first three months of the year, driven by a rise in repair and maintenance activity.
This was driven by both private housing repair and maintenance and non-housing repair and maintenance, which increased by 4.0% and 3.5% respectively.
Blane Perrotton, managing director of consultant Naismiths, said: "While it is tempting to interpret the paltry quarterly uptick as a cause for celebration, it is likely the result of developers trying to get projects over the line before Britain was due to leave the EU on 29 March.
"The 0% growth in new projects is far more revealing of the sector's endemic issues."
He said it was almost certain that the construction sector would stay in a "state of hibernation as [the prime minister] grapples for a deal in the run-up to Halloween".
Mark Robinson, chief executive at Scape, added: "A toxic mix of indecisiveness and uncertainty around Brexit, material costs and the limited availability of skilled labour has resulted in no growth in new work in January to March.
"We need to see strong leadership from our elected officials, giving our business leaders confidence in the economy and the country's ability to deliver new homes and infrastructure."
Month-on-month overall output fell in March, with the fall in new work compounded by a 2.2% contraction in repair and maintenance activity.