The Construction Products Association says contractors' margins have suffered
The risks to the UK construction industry of further political stalemate over Brexit are being intensified by rising costs eating into contractors' margins, according to the Construction Products Association.
Rebecca Larkin, a senior economist at the CPA, said confidence among consumers and businesses was low, reducing the amount of work feeding through to private housing activity and commercial work.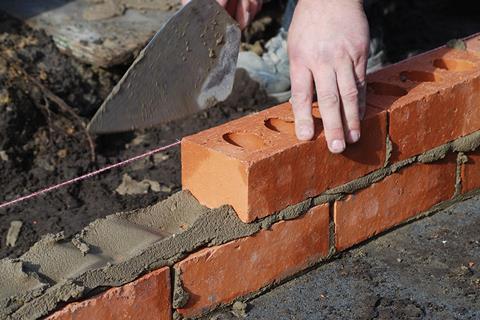 "These sectors require greater visibility over the economy's future growth path to see projects get the go-ahead. By itself this raises concern over the extent to which the political stalemate over Brexit is affecting UK construction," Larkin said.
"But the risks are intensified when combined with the prevailing narrative of rising costs for labour, raw materials and fuel eroding contractors' margins."
The CPA's latest quarterly trade survey found profit margins for half of the main contractors polled had fallen in the first quarter.
The survey also revealed a mixed picture for product sales, output and new orders in the first three months of 2019.
Sales of construction products rose according to just over half (55%) of heavy side manufacturers – aggregates, cement, ready-mix concrete, structural and reinforcing steel – year-on-year, while 29% of firms involved in light side manufacturing – heating and ventilation systems, plumbing, electrical and lighting, doors and windows, kitchen furniture and thermal insulation – reported an increase.
Construction output year-on-year was down by a fifth for main contractors, 17% for civil engineers and 7% for SME operators.
Order books were lower or unchanged in the first quarter, while 16% of SMEs and 15% of civil engineering firms reported a decline in new orders.
And raw material costs rose for 91% of civil engineering contractors, 60% of main contractors, 85% of heavy side product manufacturers and 82% of light side manufacturers.
The CPA report said of those specialist contractors who revealed their payment practices by the end of March 2019 only 4% reported their average time to pay as being less than 30 days.
Just over a third (37%) reported average payment periods between 31 and 45 days, 41% reported average payment periods of 46-60 days and nearly a fifth (19%) reported average payment periods of between 61 and 90 days. No specialist contractors had average payment periods of more than 90 days.
The CPA's findings are in line with a survey by the Federation of Master Builders which earlier this month revealed that workloads for SME construction firms had dipped for the first time in six years.