Consultant says more firms need to be better prepared 'rather than hoping it will go away'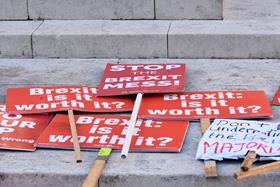 Construction cost inflation in London is starting to cool as the UK prepares to leave the EU signalling a slowdown in the market, research from Turner & Townsend has found.
T&T's International Construction Market Survey 2019 has revealed that construction cost inflation has risen by 2.1% in the UK capital, with average build costs now standing at £2,880m2.
Speaking to Building, Neil Bullen, global managing director for real estate at Turner & Townsend, said it was obvious Brexit uncertainty was hanging over the industry.
He said: "If you compare this report to the one from 2016, just before the EU referendum, there are some quite distinctive trends that show the volatility of the economic and political environment.
"There will be a level of correction after Brexit but what we do need to see is more preparedness on both the client and supply side as there are still people who seem to be hoping that it will go away and not affect them when we are already seeing the impact."
Bullen said it was imperative that the industry took this opportunity to transform the industry by investing in new technology and methods to ensure the UK remains competitive for investment.
"The forward-thinking clients we have say 'you should never waste a good crisis'. We need to invest in the future," Bullen said.
"Despite Brexit there is still a huge cause for optimism in the industry moving forward and we should not lose sight of the good things the industry has been working on."
He said this was particularly important as by comparison costs in key European commercial centres had started to soar as construction activity in these markets heats up.
Construction inflation in Amsterdam rose by 8.8% during 2018, while Dublin saw prices increase by 7%. Berlin and Frankfurt, which T&T said were both seen as competitors to the City of London for financial organisations once the UK leaves the EU, have seen inflation rise by 4.7%.
Bullen said: "Germany has got its own economic difficulties at the moment but despite this the construction market has been performing strongly.
"I think corporate investment, particularly in Berlin and Frankfurt, in the face of Brexit has a lot to do with this."
These European cities were reported by Turner & Townsend as hot or overheating – where the market is identified by a high number of projects and intense competition for physical resources and labour that is pushing up prices.
Globally, the report highlights a strong construction market, with 28 percent of markets surveyed classed as hot or overheating.
San Francisco was found to be the most expensive place to build in the world, with the average cost at £3,426 per m2. This is followed by costs in New York City of £3,025 per m2, London at £2,880 per m2, Zurich at £2,871 per m2 and Hong Kong at £2,865 ranking third, fourth and fifth respectively.
Turner & Townsend's International Construction Market Survey analyses input costs – such as labour and materials – and charts the average construction cost per m2 for commercial and residential projects in 64 markets around the world.