Construction industry reacts to Theresa May's historic loss in yesterday's meaningful vote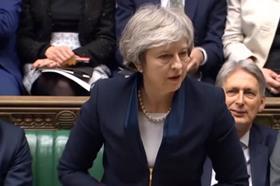 Industry bosses have issued dire warnings about the effect continued Brexit uncertainty will have on the industry in the wake of Theresa May suffering the biggest Commons defeat for a government in a century last night.
MPs are now working to reach an agreement with the EU so the UK does not crash out on March 29 without a deal, a scenario Scape boss Mark Robinson said has the "potential to paralyse construction growth".
May's proposed deal was rejected by 230 votes in last night's meaningful vote, leading Labour leader Jeremy Corbyn to table a motion of no confidence in the government which will be debated today.
Robinson, who said "a general election will be disastrous for the country", flagged a further decline in the pound, which would "lead to increased pressure on material prices", as one of the biggest concerns for construction bosses.
He said: "Combined with the ever widening skills gap – many will be wondering how they are expected to deliver projects at the necessary rate.
"This toxic mix, with the added Brexit fear factor, has the potential to paralyse construction growth. While it is now less likely than ever that we will have our ducks in a row prior to our exit from the EU, the industry needs clarity on our access to essential construction talent from the EU, to ensure we have the manpower to deliver."
Melanie Leech, chief executive of the British Property Federation, agreed it was critical that the government "avoids the disruption and uncertainty posed by no deal".
She said: "Leaving the EU with no withdrawal agreement would be harmful to investment and the property sector's ability to deliver new homes, support economic growth, regenerate towns and cities and help increase productivity – all benefits to people and businesses across the UK that the sector is keen to contribute."
Meanwhile, RIBA chief executive Alan Vallance has urged the government to seek an extension to Article 50, saying: "For the architecture sector, projects continue to be put on hold as uncertainty damages the investment climate and many EU architects in the UK are still uncertain about their future.
"Given the urgency of the situation, the government and parliament must, without delay, seek an extension of the Article 50 process to allow for a concerted attempt to reach a deal."
Earlier this week Building revealed that the Construction Leadership Council is holding a high-level emergency summit on Brexit, to discuss the impact on the industry should the UK crash out of the EU without a deal.