Croydon project will peak at 236 metres tall - 74 metres less than The Shard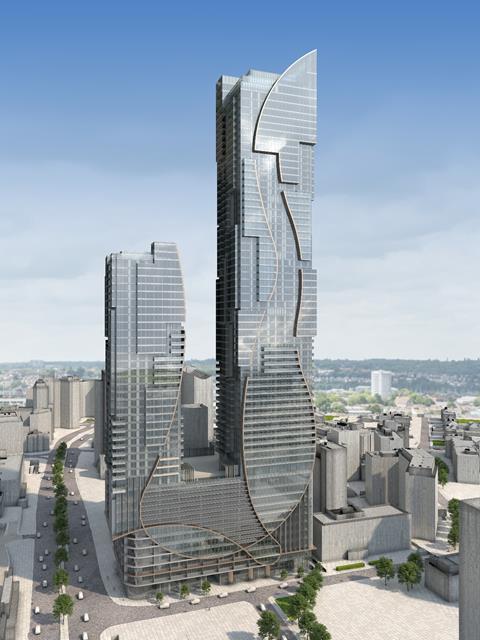 Developer Guildhouse Rosepride has won planning approval for a dual tower scheme in Croydon that will be dwarfed only by The Shard at London Bridge.
The scheme comprises two skyscrapers rising up to 68 and 41 storeys in height linked by an 11 storey podium. Once complete the project will peak at 236 metres tall - 74 metres less than The Shard, which stands at 310 metres, making it the second tallest building in the country.
Designed by Piers Gough of CZWG Architects, 'One Lansdowne' will house 794 residential units and 35,000m2 of office space, as well as a swimming pool, gym and ground floor retail space. It will also feature a public viewing gallery and bar and restaurant on the upper floors. The new approved scheme comprises 21% affordable housing.
Located opposite Westfield and Hammerson's planned £1.4bn revamp of the Whitgift Centre, it is the third iteration of the scheme to go in for planning.
The first plans were approved in 2012, but following this Guildhouse Rosepride teamed up with China Building Technique Group Company after being introduced by the mayor of London's promotional vehicle London & Partners and submitted a revised scheme in January last year.
This was refused planning approval in July last year due to concerns over harm to the setting of heritage assets, the mix of residential units and the amount of affordable housing.
Guildhouse Rosepride said it was aiming to start demolishing the site's existing buildings next summer and bring in a joint venture partner to complete the funding package. The build time of the skyscraper is estimated at nearly five years.
David Hudson, chief executive of Guildhouse Rosepride, said: "The great challenge for Croydon is to change perceptions and this scheme will help it to become a destination in its own right. This will help to achieve that because, in my opinion, it will be a world-famous building."
"With the highest bar and restaurant in London and a viewing gallery open to the public, this really puts Croydon on the map.
"You will see it from Piccadilly to Brighton. So for just two people to object to is pretty remarkable."