Firm has extended its committed development pipeline to 1.5m ft2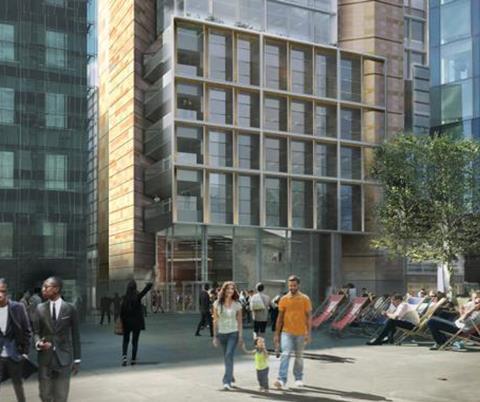 British Land is to progress with plans for a £196m redevelopment of 1 Triton Square (pictured) at its 13-acre Regent's Place campus near Euston station after securing a pre-let for the majority of the 366,000ft2 building.
Designed by Arup, the eight storey building will have its floor space increased by 127,000ft2. The scheme will see 20,000ft2 of retail and leisure on the ground floor, office space and four roof terraces created. Work is expected to start on site in March.
Overall British Land has a pipeline of 10.7m ft2, more than half of which is its 5.5m ft2 scheme at Canada Water in London's Docklands.
The developer said it now expects to put in a planning application for phase one at the 46-acre site in spring next year, which will deliver 1.8m ft2 of space. This will also include plans for several buildings in the phase with a potential start on site in 2019.
The firm is also targeting a 2019 start on the Meadowhall shopping centre in Sheffield, for which a resolution to grant planning consent has been secured from the council, and expects to begin design work on 330,000ft2 extension next year.
Another retail development the firm expects to kick-off on site in two years is Eden Walk in Kingston. British Land, in a joint venture with the Universities Superannuation Scheme (USS), has planning permission for a 533,000 sq ft regeneration scheme at the shopping centre.
At Paddington in London where British Land has an 11-acre mixed-use scheme, it is planning to start on site next year with the build of a new 20-storey hotel spanning 105,000 ft2 after securing a resolution to grant planning permission from the council. It also anticipates submitting a planning application for an office-led scheme at 5 Kingdom Street.
Other projects in British Land's pipeline include a £57m redevelopment of 135 Bishopsgate in the City of London, and will progress with plans if negotiations for a substantial pre-let of the 127,000ft2 office space with a potential tenant move forward. It added that it was also under offer for a 43,000ft2 pre-let on retail space on the ground and first floors of the project.
British Land revealed it is undergoing feasibility studies for a "significant scheme" at 1-2 Broadgate, which would increase the retail element of the area.
Reporting half-year results for the six months ended September, the firm turned around a £205m loss from last year to post a pre-tax profit of £238m, while revenue also rose 12% to £332m. Its portfolio valuation stood at £13.5bn.
It said it has been seeing "marginally lower" construction cost inflation than the previous two years and indications were that these costs would continue to moderate with input costs increasing slightly before levelling out in late 2018.
But it added this may not be consistent throughout all trade contractors. British Land had fixed construction costs on 89% of its committed development programe and was maintaining allowances within project budgets to reflect specific sectors and locations.
The firm also said that having sold the Cheesegrater in spring, for which it banked £575m as its share, to Chinese firm CC Land, it was still seeing a buoyant office market in the capital.