Nexus Planning sets target to double turnover by 2017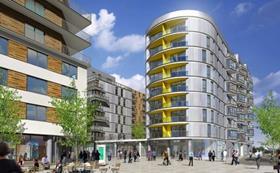 Broadway Malyan spin off Nexus Planning has reported a turnover of £2m in its first year of trading.
The regeneration and development consultancy said it had posted pre-tax profit of £210,000 on just over £2m worth of turnover in the year ending April 2014.
Nexus Planning, which currently has 20 team members operating from offices in London, Surrey and Manchester, was formed out of Broadway Malyan last year.
Nexus is owned by Broadway Malyan, but that Nexus' management team has entered an agreement with them to acquire shares and part-ownership over time.
In its first year the firm has worked on a variety of projects including Chatham Place in Reading (pictured).
Roger Tustain, managing director of Nexus Planning, said that the company had set targets to double its turnover to £4m by 2017 and increase the size of the fee earning team to 35.
The company announced in June that Peter Mawson, the former Chief Executive of the West Northamptonshire Development Corporation, had been appointed as the company's chairman.