Carrefour project is design firm's first commercial build in Americas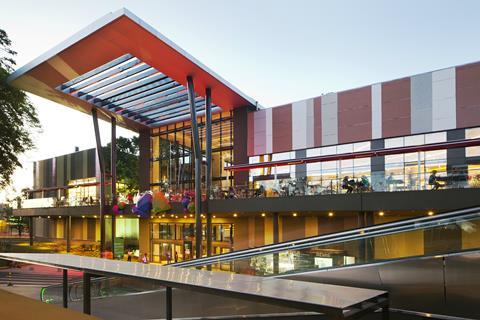 A $29m (£19m) shopping centre designed by Broadway Malyan has opened in Argentina.
The 130,000 sq metre Terrazas de Mayo shopping centre, west of Buenos Aires, is the design firm's first major commercial project in North or South America.
Built for the property division of Carrefour Argentina, the centre boasts 130 shops, a 10,900 sq metre hypermarket, 14 food and drink outlets, a 3,500 sq metre food court, 720 sq metre amusement park, and a bowling alley.

Broadway Malyan Director Jorge Ponce Dawson said the design concept for the project, which was an extension of a former mall on the site, had been inspired by nature in the local area.
"Our expert design team has worked in close partnership with long-standing client Carrefour to deliver its first shopping centre in Argentina, which is also our practice's first built project in the Americas – having opened studios in Santiago, Chile, in 2013 and São Paulo, Brazil, in 2011," he said.
"The design concept is inspired by the natural environment and large trees that surround the centre.
"It features large windows, terraces, skylights and courtyards to integrate the exterior and interior environments and create a bright and engaging experience for visitors."