Architect's UK turnover rises by nearly a fifth, but overseas revenue falls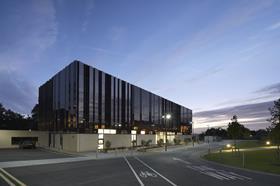 The rebounding South East England residential development market has helped Broadway Malyan mask a drop in overseas turnover, the practice's annual results show.
According to its accounts for the year to 30 April 2014, which were published last week, Broadway Malyan's total turnover was up 2% from £43.2m the previous year to £43.9m.
Pre-tax profit increased at a much faster rate from £286,000 to £1.38m over the same period.
The steady improvement in revenue was principally driven by an increase in turnover within Broadway Malyan's UK business, which increased 19.6% from £17.8m in 2013 to £21.3m this year.
The UK business accounted for 48% of overall turnover in 2014 compared to 41% in 2013. Writing in the accounts, managing director Gary Whittle said that the stronger performance of Broadway Malyan's British operations had been underpinned by the company's "strong reputation" in the UK housing market - particularly in the London and the South East.
Revenue in Broadway Malyan's other powerhouse region - Middle East and Asia - dipped slightly from £15.7m in 2013 to £15.4m.
Revenue from the rest of the world nearly halved from £7m to £3.9m
However, the increased turnover in Europe and the UK compensated for the drop in these regions.
Overall turnover for Broadway Malayan's overseas operations was down £25.4m in 2013 to £22.3m.
Projects completed by the practice this year included the £26m redevelopment of Birmingham's National Indoor Arena which was officially launched as the Barclaycard Arena last week with a concert by Grammy award winner Michael Buble.