Expectations for big spending pledges set low as Sunak seeks to bring down deficit
Rishi Sunak will deliver his third budget this afternoon as the government comes under growing pressure to control rising costs for materials, labour and energy which have hobbled the post-pandemic recovery of construction and many other sectors.
But as the chancellor stands up at the despatch box at 12.30pm, he will once again be speaking to parliament against a challenging backdrop of public finances ruined by successive covid-19 lockdowns.
Expectations of big spending pledges have already been set low, with the focus likely to be on reining in spending to reduce the government's £2.2tn deficit, the highest since the Second World War.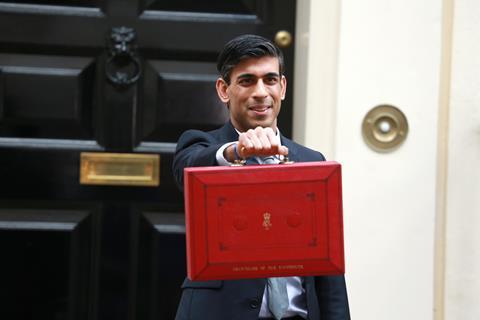 However, with borrowing during the first half of this year being around £44bn lower than the £152bn predicted by the Office for Budget Responsibility in March, Sunak has been provided with some much needed wiggle room.
Many announcements have already been made, including new funding for brownfield housing, infrastructure and cultural projects trailed in a series of press releases over the past few days.
But some other big ticket items related to construction have been notably absent in recent months.
The government's heat and buildings strategy, published last week, made no commitments to a long term national retrofit programme to improve the energy efficiency of the UK's 30 million buildings.
There is also still no sign of the government's integrated rail plan (IRP), which will outline how railways will be upgraded.
It is speculated that the delay has been caused by a rethink of HS2 and other big rail schemes, with HS2's eastern leg to Leeds widely expected to be scrapped and the Northern Powerhouse Rail project linking northern cities also facing a possible downgrade.
There is a small chance that the government has been saving announcements on both the IRP and a national retrofit programme for today - but few are pinning their hopes on it.
Noble Francis, Construction Products Association economics director, said he is not expecting much today aside from re-announcements of existing spending promises.
He said: "The chancellor has already boxed himself in to reining in spending in most areas in the medium-term so it will be difficult to do much more than what Treasury has leaked already.
"The focus of the Autumn Statement is likely to be on what has already been leaked; removing the public sector wage freeze and the minimum wage rise."
Here's a quick rundown of what the Treasury has already announced.
Housing
Funding of £1.8bn has been promised to turn brownfield sites in England into 160,000 "greener" homes.
No details were provided on exactly how much greener these homes would be, but the plan has been billed as part of the government's net zero agenda.
Sunak also announced £9m to build 'pocket parks' in cities across the UK, and £65m to digitise town planning systems.
Infrastructure
The chancellor is expected to reveal how £6.9bn will be spent on transport schemes across the UK, although just £1.5bn is new money.
Greater Manchester is set to receive more than £1bn for new trams, bus services and cycling and walking routes, while the West Midlands is in line for over £1bn for metro stations and bus schemes.
Liverpool is also set to be handed £710m for station renovations, with West Yorkshire expected to get £830m, £570m for South Yorkshire, £540m for the West of England and £310m for the Tees Valley.
Cultural hotspots
Museums, galleries and other visitor attractions have been promised £850m for restorations and upgrades as the government aims to maintain the UK's popularity with tourists.
The V&A, Tate Liverpool and the Imperial War Museum in Duxford, near Cambridge, will each get a share of a £300m fund, with York's National Railway Museum also receiving redevelopment funding.
The Natural History Museum will get £125m to help build its new scientific research centre in Oxfordshire.
And the British Library's site in Yorkshire is set to receive more than £77m, while over £75m will be given to 110 regional museums and libraries to improve their buildings and digital facilities.
Sports
Another £700m has been unleashed to upgrade sports and youth clubs across the UK.
The money will be used to build or improve up to 8,000 sports pitches and for a range of other projects including new clubhouses and community buildings.
Up to 3000 youth clubs in deprived areas are also set to receive funding.
Net zero projects
The government announced £440m of new money for green construction projects in last week's net zero strategy, which sets out how carbon emissions will be reduced across the economy.
It includes £180m for the development of plants which can create sustainable aviation fuel and £140m for two new carbon capture clusters located on the border of North Wales and Merseyside and in North-east England.
Funding of £120m has also been earmarked for the development of small modular nuclear reactors at a number of possible sites including Wylfa in Anglesey.
Heat Pump grants
Expect Sunak to highlight the government's £3.9bn package for decarbonising homes over the next four years, revealed in last week's heat and buildings strategy.
The fund includes a £450m boiler upgrade scheme which will provide homeowners with £5,000 grants to install heat pumps, available from April next year.
But the strategy also insisted that the government wants to retrofit homes with new insulation and other energy-saving measures before installing new heating systems.
With no details on how this will be done following the shambolic failure of the Green Homes Grant earlier this year, today could be a prime opportunity for Sunak to clear the air and finally commit to a national retrofit programme.
If he does, the opportunities for the construction industry would be both huge and long term - the Construction Leadership Council estimated that the value of such a programme could be more than £500bn over the next two decades.