More than £700m to be given to 30 towns across England
Over £700m in funding will be given to 30 towns in England to help their economies recover from the pandemic, the government has announced.
It is the latest tranche of funding from the government's Towns Deals, which have already been agreed for 83 towns totalling £2bn since 2019.
Hastings, Hartlepool, Bedford and Bishop Auckland are among those receiving funding, which the government said will go towards creating jobs and regenerating neglected areas or unused buildings for businesses, community events and new homes.
Among the projects being planned is a civil engineering institute in Hartlepool to boost skills in the area, with the town also using its £25m share to build a new health academy.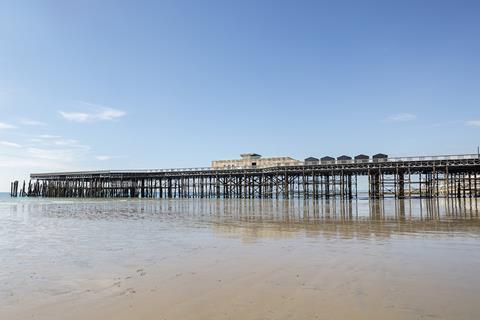 Hastings, which is netting £24m from the deal, will build a Low Carbon Centre of Excellence to provide commercial space and renovate its 12th century castle to boost tourism.
Doncaster will use its £25m to create cycle lanes, walking route and commercial space in its town centre, while Hereford will spend its £22m upgrading its museum, library and art gallery.
Communities secretary Robert Jenrick said the £725m Towns Deal will help build stronger and more resilient local economies.
Boris Johnson announced the £3.6bn Towns Fund after becoming prime minister in July 2019.
The scheme has come under fire for appearing to be targeted towards Tory-held seats, with 39 out of 45 towns which received the first £1bn of funding being represented by Conservative MPs.
Towns receiving funding
| | |
| --- | --- |
| Town | Funding amount |
| Ashfield (joint Kirkby & Sutton) | £62.6m |
| Bedford | £22.6m |
| Bishop Auckland | £33.2m |
| Bridgwater | £22.6m |
| Brighouse | £19.1m |
| Cleator Moor | £22.5m |
| Corby | £19.9m |
| Dewsbury | £24.8m |
| Doncaster | £24.8m |
| Glastonbury | £23.6m |
| Goole | £25m |
| Harlow | £23.7m |
| Hartlepool | £25m |
| Hastings | £24.3m |
| Hereford | £22.4m |
| Keighley | £33.6m |
| King's Lynn | £25m |
| Long Eaton | £24.8m |
| Loughborough | £16.9m |
| Newcastle-under-Lyme | £23.6m |
| Oldham | £24.4m |
| Redcar | £25m |
| Redditch | £15.6m |
| Rotherham | £31.6m |
| Shipley | £25m |
| Stapleford | £21.1m |
| Telford | £22.3m |
| Walsall | £21.3m |
| Worcester | £19.6m |