Main contractors sought for first phase of Aecom-masterplanned North West Cambridge urban extension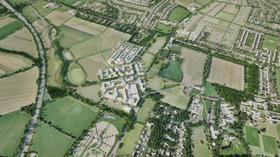 Cambridge University is seeking main contractors for the first phase of a £1bn mixed-use development scheme in the city.
The 150 ha North West Cambridge development is the largest single capital project that the University has undertaken in its 800-year history and is expected to be the largest development in the country built to level five of the Code for Sustainable Homes and - for non residential buildings - BREEAM Excellent.
The university, the main developer of the project, is seeking contractors for the buildings and public realm within Phase One of the 150-hectare development site with contracts ranging from £5m to £50m and above.
Masterplanned by Aecom, the project will be designed by leading architects including David Chipperfield, Alison Brooks, Witherford Watson Mann, Wilkinson Eyre, Mecanoo, Cottrell & Vermeulen, Muma, Mole, Sarah Wigglesworth, AOC and RH Partnership.
Construction director for the project Gavin Heaphy said: "The ambitions of the development present a great opportunity for main contractors to step forward and not only be a part of the University's major development, but also to set new standards in mixed use and residential building.
"Some of the most accomplished architects and technical consultants are already on board for phase one of the project."
Phase One covers includes 530 key-worker homes, over 300 student bed spaces and the local centre that includes a supermarket, unit shops, doctors' surgery and other community buildings.
Building contracts will commence on a phased basis from mid-2014 completing throughout 2016. Archaeological and enabling works are underway, and infrastructure works begin later in 2013.
A Contractors' briefing session will be held on the afternoon of 30 September in Cambridge. Interested contractors should register by contacting Steve Pickles or Katie Metcalf at Gardiner and Theobald, Cost Consultants for the North West Cambridge development at nwcd@gardiner.com