Irish firm Sammon Group goes under after being owed £7m by bust firm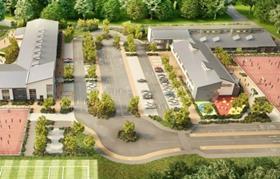 Another firm has gone bust after being caught up in Carillion's implosion back in January.
Irish firm Sammon Group, which employs more than 200 people in Kildare, has gone into liquidation after being left €8m (£7m) out of pocket by Carillion.
In March, M&E specialist Vaughan Engineering Ltd collapsed into administration, making close to 150 staff redundant and bringing to an end 50 years of trading.
Vaughan said it was felled by Carillion's collapse after saying the bust contractor owed it at least £600,000. It had been due to carry out more than £1m worth of work for the firm in the first quarter of this year.
Sammon was placed in examinership in April, a process in Irish law where protection from the court is obtained to assist the survival of a company. It allows a company to restructure with protection from creditors with the approval of the High Court.
But examiner Michael McAteer, from accountant Grant Thornton, made a High Court petition to have the company wound up yesterday. Stephen Tennant, also of Grant Thornton, will act as liquidator.
The contractor, which reported turnover of €72m (£63m) in 2016, was owed the £7m sum by Carillion for work on schools projects when the firm went bust in January.
Sammon founder and chief executive Miceál Sammon told the Irish Independent it was "a painful and distressing time for everyone who worked in the business".
"We are devastated by the impact that this development has on everyone associated with our company – both personally and professionally."
Sammon was hired by a joint venture that included Carillion to help build five schools in Ireland, including schemes at Wexford and Wicklow (pictured).
Inspired Spaces, a partnership between Carillion and an investor, the Dutch Infrastructure Fund, won the contract to build Schools Bundle 5 (SB5), and appointed Sammon as a subcontractor. Work stalled following Carillion's collapse.
In his submission to court, McAteer said following communication with the Dutch Infrastructure Fund, no decision has been made to award the contract to finish off the SB5 project.
He said this delay had compromised confidence in Sammon and had made it more difficult to attract investment, while other monies it was owed had not been paid.
The contractor had also received termination notices on two other jobs it was involved with, he said.
As a result, McAteer said he could not continue with the examinership. But he did say a small subsidiary of the Sammon Group, which employs 22 people, may be able to exit examinership successfully.