Review of scheme by Arup also finds problems with structure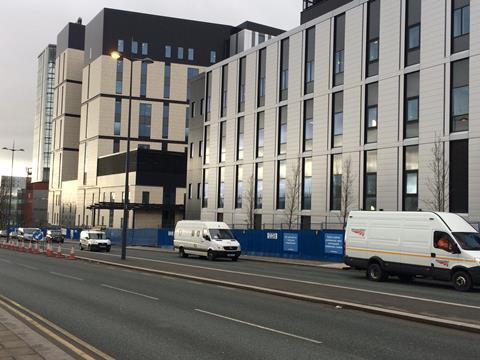 Cladding on one of the two hospital jobs that have sat idle since Carillion collapsed in January does not meet the required standards, according to the NHS trust behind the scheme.
The Royal Liverpool and Broadgreen Hospitals NHS Trust has revealed that a structural review by Arup has uncovered both cladding and structural issues at the new Royal Liverpool Hospital.
In a statement, the trust said: "Arup have identified the requirement for further improvements to the structure and to cladding.
"Before they entered into liquidation, the trust sought assurances from Carillion about this cladding and they told us that: 'There are a number of different cladding systems utilised on the Royal Liverpool University Hospital all of which have been specified and installed to meet the required standards of fire safety….The new hospital has been designed to comply with the requirements of HTM05-02 Firecode – Fire Safety in the design of healthcare premises.'
"The recent review has found this not to be the case with some parts of the cladding."
At last night's meeting of Liverpool city council's social care and health select committee the trust's chief executive Adrian Kehoe said while the cladding was not the same as the ACM system used on the Grenfell Tower in west London it would still need to be replaced.
The trust said the remedial work required to correct faults created by Carillion had made it harder to predict how much it will cost to complete the hospital.
But it said despite these issues the funders, the European Investment Bank and Legal and General Pensions, were still supporting the project.
At the end of the month, the board has the option to terminate the contract with the Hospital Company [the company set up to deliver the hospital], with the board discuss options later this month.
The trust said: "If the contract was terminated, we would need to engage the lenders in complex discussions regarding the status of their investment. These discussions would need to be resolved before a new contract to complete the hospital could be agreed.
"In the meantime, discussions between the government and the funders to agree a way forward are continuing and we expect these discussions to generate an agreed outcome very soon."
The board's next meeting is scheduled for 25 September.
Earlier this year, former Carillion chief executive Richard Howson told MPs, when giving evidence to the parliamentary inquiry into Carillion's collapse, that the firm had to carry out work repairing cracked beams at a cost of £20m.