More than 350 jobs were saved last week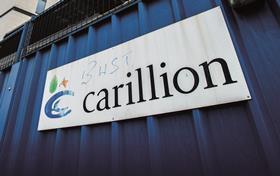 The number of jobs being shed in Carillion's liquidation has slowed down, with fewer than 40 jobs cut in the past week.
Just 36 employees from the failed contractor were axed in the past seven days, while 357 jobs were saved.
A spokesperson for the Official Receiver said: "11,450 employees have been found secure ongoing employment as a further 357 jobs have now been saved with employees transferring to new suppliers who have picked up contracts Carillion had been delivering.
"Regretably 36 employees, whose positions are no longer required as Carillion's business transfers to new suppliers, will leave the business later this week.
"I continue to talk with potential purchasers for Carillion's remaining contracts and will keep staff, elected employee representatives and unions to keep them informed as these arrangements are confirmed."
Last week, French engineering firm Egis took over Carillion's contract for the operation and maintenance contract for the M40 motorway, saving 95 jobs.
Around 3,300 employees are currently retained to enable Carillion to deliver the remaining services it is providing for public and private sector customers until decisions are taken to transfer or cease these contracts