Future of 74 employees decided in past week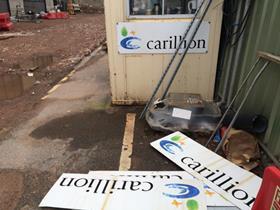 More than 1,000 Carillion employees have chosen to leave the collapsed contractor during its liquidation, according to an update from the Official Receiver.
In the almost four months since Carillion went bust, the number of ex-Carillion staffers who have chosen to leave the business due to finding new work, retirement or for other reasons has passed four figures.
The Official Receiver said 1,102 employees had made the decision to leave the failed firm throughout the liquidation.
The update also said the future employment status of a small number of employees had been decided for them in the past week.
A spokesperson for the Official Receiver said: "The future employment status for a small number of employees was confirmed this week, with 39 staff transferring to new employers, while regrettably 35 further redundancies are being made.
"Discussions continue with potential purchasers for Carillion's remaining contracts and with staff, elected employee representatives and unions as these arrangements are confirmed."
Throughout the liquidation, 11,489 jobs have been saved and 2,292 jobs have been made redundant, in addition to the 1,102 employees who chose to leave the business.
Around 3,200 employees are currently retained to enable Carillion to deliver the remaining services it is providing for public and private sector customers until decisions are taken to either transfer or cease these contracts.
Carillion employed more than 40,000 staff globally around half of whom worked in the UK. Its head office in Wolverhampton, which is now up for sale for £3m, had around 400 staff.