Contractor claims unions were aware of database and condoned use to exclude 'extremist elements'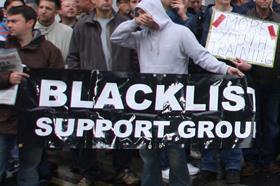 At least one trade union condoned the blacklisting of construction workers before the practice was uncovered in 2009, Carillion has claimed.
In its written submission to parliament's Scottish Affairs Committee, which is investigating the blacklisting scandal, the contractor said unions "may also have supplied information" to the blacklisting database. It claimed there was evidence that "at least one union" was aware of the database and "condoned its use to screen out extremist elements operating without official union sanction".
Blacklisting of construction workers came to light after a 3,200-name list was seized by the Information Commissioner's Office (ICO) in 2009 from the now defunct Consulting Association (CA). The CA sold details of blacklisted workers to more than 40 customers, including Carillion subsidiaries, Sir Robert McAlpine and Balfour Beatty.
In its written evidence to the Scottish Affairs Committee, Carillion said it has been eight years since one of its subsidiaries - Crown House Engineering (CHE) - used the CA's referencing service to check blacklisting records. The firm said Liz Keates - then employee relations manager at CHE and now Carillion's head of employee relations - "proactively stopped" using the CA service in 2004.Carillion said another of its subsidiaries, Mowlem, used the blacklist but stopped doing so before Carillion acquired the group in 2006.
Carillion said its senior management "was not aware of any use of the CA's database" and if it had been "the practice would have been banned". It said it was "deeply regrettable that [its involvement in blacklisting] is being grossly exaggerated to suit unconnected agendas".
This week Carillion chief executive Richard Howson hit back at the GMB's "appalling campaign" singling out the contractor for its alleged links to blacklisting after the union wrote to Birmingham council to ask it to reconsider its decision to make the firm preferred bidder on the £1.45bn Energy Savers retrofit programme.
In a separate development this week it emerged that shadow business secretary Chuka Umunna has written to the ICO urging it to proactively contact all the workers named on the blacklisting database and question why the ICO did not do more to investigate the CA back in 2009.
While Labour MP Tom Watson has called on the Information Commissioner's Office to inform all 3,213 people whose names are on the blacklist, contrasting the ICO's failure to do so with the way that the Metropolitan Police was pro-actively approaching all phone-hacking victims.