Carillion offers Balfour Beatty shareholders increased share of merged firm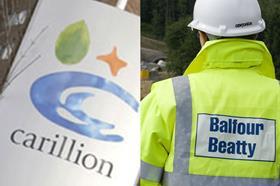 Carillion has put a fresh merger proposal to Balfour Beatty which would see Balfour's shareholders take a 58% stake in the merged company.
Carillion had originally offered to let Balfour Beatty shareholders have a 56.5% stake in the combined entity - an offer Balfour Beatty rejected after Carillion did an about turn on Balfour's plans to sell consultant arm Parons Brinckerhoff - but today Carillion upped that offer to 58.268%.
Carillion said the offer valued Balfour Beatty at £2.086bn, compared to the £1.886bn it was valued at under the original offer. Balfour's current market capitilisation is around £1.75bn.
Carillion today also offered to pay £59m in cash, equivalent to 8.5p per share, to Balfour Beatty's shareholders.
It said the offer represented a 36% premium on the Balfour Beatty average share price in the month prior to the merger talks becoming public.
The firm said it "hoped" that "on the basis of these improved terms, the board of Balfour Beatty will now re-engage in discussions" and extend the deadline for a firm offer which expires on Thursday (21 August).
Carillion said it "continued to believe in the powerful strategic logic of a merger" and that the combined firm's cost base could be reduced by £175m by the end of 2016.
Carillion added: "Earnings would consequently be significantly enhanced from that year and that these cost savings would represent a capitalised value of over £1.5bn before any re-rating."
The merger offer is the second made by Carillion to Balfour Beatty - both of which have been rejected.
Philip Green, chairman of Carillion said: "Given the scale of the prize for shareholders of both Balfour Beatty and Carillion from a merger of the two companies, the board of Carillion remains committed to moving forward in a constructive and collaborative way with the board and management of Balfour Beatty to create a world-class business and very significant value for the shareholders of both companies".
In response, Balfour Beatty said it would " consider this announcement by Carillion and will make a further announcement in due course".
Stephen Rawlinson, analyst at Whitman Howard, said: "This is probably as far as Carillion can go without disenchanting its own shareholders."
He added that this more generous offer from Carillion could push the bidders for Balfour's consulting arm Parsons Brinckerhoff – reported to include WSP and Atkins – to increase their offers for the consultant to convince Balfour to proceed with the sale, rather than accept Carillion's merger offer.
Andy Brown, analyst at N+1 Singer, said the offer was "not a knock out".
He said: "It seemed inevitable that they [Carillion] would come back, they have clearly sweetened the deal.
"I think its success comes down to the discussion with Balfour Beatty's shareholders, it depends how keen they are for it to happen – the management have to pay heed to that."
For full coverage of the Balfour Beatty merger talks see here