Balfour Beatty announces deal to sell its consulting arm, which it put on the market in May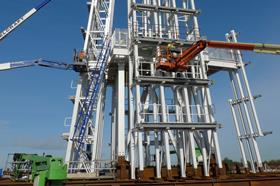 Engineer WSP is to buy Parsons Brinckerhoff from its parent company Balfour Beatty for £820m in cash.
In a statement to the City this morning Balfour Beatty announced it had agreed to sell its consulting arm to the Canadian consultant for US$1.4bn (£820m), allowing it to return £200m to shareholders.
However, £67m of cash will transfer to WSP as part of the deal.
Balfour Beatty first announced it was selling Parsons Brinckerhoff in May this year after it had to issue the third in a series of profit warnings and parted ways with its group chief executive – who has yet to be replaced.
In recent months Balfour has steadfastly stood by its decision to sell Parsons as the deal proved to be a sticking point of its merger talks with rival Carillion, which wanted to keep Parsons as part of any combined firm.
The deal announced today is subject to approval by Balfour Beatty's shareholders and the regulatory authorities.
Balfour Beatty said it anticipated that taxes, fees and other transaction costs for the deal would cost it £50m, with a further £30m of "separation-related costs".
However, it repeated its pledge to return up to £200m to shareholders and put £85m into the group's pension fund.
The firm said the rest of the proceeds of the sale would be retained to "ensure a strong balance sheet and provide increased financial flexibility".
Pierre Shoiry, president and chief executive of WSP, said he expected the combined firm to be "an industry leader, with the ability to deliver more expertise and services to our client base across the world". The acquisition will add 170 offices and nearly 13,500 employees on five continents to WSP, covering the transportation, power, energy, community development, water, mining and environment sectors. If approved, the combined firm will boast 31,000 employees and pro-forma revenues of CAN$3.8bn (£2.12bn)
He added: "We expect to successfully reach the strategic objectives we had set for 2015, by creating one of the largest global pure-play professional services firms in our industry around our four pillars, namely our employees, our clients, our operational excellence and our expertise."
Steve Marshall, executive chair of Balfour Beatty, said the sale price was "a significant return on our original investment and a compelling level of value creation for shareholders".
He added: "In the US, our core construction business is well positioned in a recovering market.
"In the UK we see the potential for margins to progressively recover to peer group levels. Our services business, meanwhile, is well placed to benefit from the growing investment in infrastructure.
"Together, these elements will provide a strong foundation for an incoming group chief executive to take the company forward."
Balfour Beatty said it would now be "repositioning" its business as an "Anglo-American infrastructure group focused on construction, services and investments".
It said it was focused on restoring the value of its UK construction business; building up its investment business; taking advantage of growth in the US buildings, civils, rail and power markets; and "realising further indirect overhead savings and shared service efficiencies across the group".
Also, in a comment that appeared to hint at its openness to a merger or takeover deal it said it would "continue to assess all other value creation opportunities".
WSP said the acquisition would "strengthen WSP's presence in industrialized regions of the world and prudently increase its exposure within higher-growth emerging regions, while maintaining a good mix of projects awarded from the public and private sectors".
It added that the combined firm would have an "enhanced value proposition" that would enable it to "compete for, and execute some of, the most complex projects around the world".
WSP's management estimated there would be annual "cost synergies" of around US$25m, before transaction and integration costs, from the combination of the two firms that would be unlocked over the next two years.
To finance the deal WSP announced it would undertake a CAN$502m (£280m) public offering of subscription receipts and a CAN$400m (£223m) private placement of subscription receipts.
The firm has also agreed new credit facilities including an US$800m (£486m) revolving credit facility, a US$400m (£243m) term facility and a CAN$400m (£223m) equity bridging facility.