Exclusive: Industry shocked as figures reveal cavity wall installations fell 97% in April compared with same month last year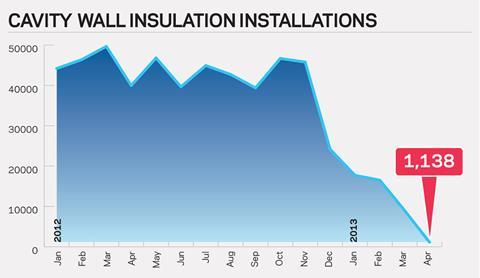 Installations of cavity wall insulation have collapsed under the Green Deal, falling a staggering 97% in April compared to last year, Building can reveal.
Figures collected by the Cavity Insulation Guarantee Agency, which monitors installations and guarantees issued, seen by Building, show only 1,138 installations were completed last month, down from 49,650 in April 2012.
Installations had averaged 40,000 a month throughout 2012 under the previous government insulation programmes the Carbon Emissions Reduction Target (CERT) and the Community Energy Savings Scheme (CESP).
But these ended on 31 December 2012 and were replaced by the Green Deal and the Energy Company Obligation.
In the first four months of 2013 cavity wall installations averaged 11,000 a month - a fall of 73% on the 2012 monthly average - with April's figure of 1,138 representing a new low.
Sustainability expert and David Strong said the numbers were "absolutely shocking".
He said: "It is deeply concerning, particularly when measures like cavity wall insulation are the cheapest way of delivering energy savings."
Andrew Warren, director of the Association for the Conservation of Energy, said there was a "desperate need for financial stimuli for the Green Deal".
He added: "What is so galling is that this collapse in insulation activity was being forecast by the government as long ago as 2010, in their initial economic impact assessments for their flagship Green Deal programme."
Steven Heath, external affairs director, at Knauf Insulation said: "It's what the industry has warned about for the last year. There needs to be a planned transition between the old schemes and the new. If these numbers are correct, they evidence that that transition has not happened."
Labour's shadow climate change minister Luciana Berger said: "This staggering collapse in the number of energy efficiency installations is a disaster for our economy and a body blow for hundreds of small businesses across the country.
"Labour warned nearly a year ago that the number of cavity wall installations would plummet because of structural problems with the Green Deal.
"The fact this has now become a reality is all the more damaging when there are at least 5.8 million homes in the UK that still need cavity wall insulation, according to the government's own estimates.
"Ministers claimed that the Green Deal would be the biggest home improvement programme since the Second World War, but David Cameron's Green Deal is clearly failing to deliver the energy efficiency we need to reduce fuel bills, create jobs and cut our carbon emissions."
A spokesperson for the Department of Energy and Climate Change said the Green Deal was a "long-term programme".
He added: "The Green Deal cashback scheme currently offers £250 for cavity wall insulation, and additional help for this type of work may also be available for people in properties which are particularly tricky to treat, and those on benefits or low income, through the ECO.
"So there is plenty of support available to help increase the number of homes getting cavity wall insulation, which is an important energy saving measure."
Cavity Wall Installations - month by month
| | | |
| --- | --- | --- |
| 2012 | Jan | 44,181 |
| | Feb | 46,357 |
| | Mar | 49,650 |
| | Apr | 39,968 |
| | May | 46,793 |
| | Jun | 39,642 |
| | Jul | 44,923 |
| | Aug | 42,701 |
| | Sep | 39,377 |
| | Oct | 46,665 |
| | Nov | 45,776 |
| | Dec | 24,173 |
| 2013 | Jan | 17,715 |
| | Feb | 16,509 |
| | Mar | 8,986 |
| | Apr | 1,138 |