£500m revamp of Stamford Bridge will need 6 million bricks - equivalent to 200 homes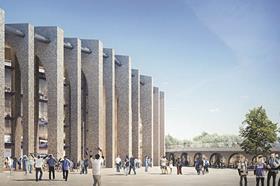 Spectacular redevelopment plans for a brick-clad stadium for Chelsea FC will need around 6 million bricks and could require the football club to buy a brickworks to supply them, Building has learned.
Sources close to the Herzog & de Meuron-designed £500m-plus project - which is currently being assessed by local planners - said the Premier League club is considering buying a brickworks to ensure a cheap, reliable supply of bricks for the mammoth facade.
The 6 million bricks needed for the Stamford Bridge revamp (pictured) is equivalent to 200 typical London homes, or 36 times the 167,699 bricks used to clad the extension to the capital's Tate Modern art gallery, also designed by Herzog & de Meuron, which opens next month.
While any decision on whether or not to buy a brickworks is likely to be months away, and is dependant on the scheme winning planning, the proposal illustrates just how ambitious and distinctive the planned stadium is.
Building's sources said Chelsea - which mounted a lacklustre defence of its Premier League title last season - is looking to learn lessons from brickwork issues on the Tate Modern extension, which contributed to that project opening almost four years late. Whilst there is no suggestion that there was any problem with the brick installation itself, difficulties in creating the complex interface between the concrete frame and brick facade, a process which involved four trades, was described by a senior project source as "a big issue" contributing to the scheme's delays.
Options being looked at at Stamford Bridge include attaching bricks to panels of the facade off-site before transporting them to the stadium site, rather than attaching bricks individually or in twos, as was the case at the Tate Modern extension.
Chelsea FC declined to comment when contacted by Building.
Chelsea is one of a trio of London clubs set to move to new or redeveloped stadiums, starting with West Ham moving to the Olympic stadium this autumn, followed by Tottenham Hotspur into a rebuilt White Hart Lane in 2018.
The revamp of Stamford Bridge is fully funded by Russian oligarch and Chelsea owner Roman Abramovich and will see two hotels demolished to enlarge capacity at the stadium from 42,000 to 60,000.
Arcadis is cost manager, WSP and Schlaich Bergermann are providing engineering services, while WSP is also providing transport consultancy, and Aecom is strategic planner. The scheme's "gothic skin" facade is being engineered by Eckersley O'Callaghan.
Describing the brick facade in planning documents submitted to Hammersmith and Fulham council last year, Herzog & de Meuron said: "It is our intention to continue the tradition of building with brick in London not only as an urban gesture but as a formal gesture using a mineral material to reinforce the strength and solidity of the stadium."
The facade will incorporate a mix of full and half-broken bricks, to give the facade a "rough" finish, the practice added.