Lambeth Council says Elizabeth House plans were "impossible to refuse"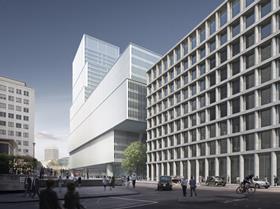 The £600m Elizabeth House scheme next to Waterloo station in London has won planning approval from Lambeth Council.
The council's planning committee said the David Chipperfield-designed scheme was "impossible to refuse", given the expected benefits for the local area and economy.
The scheme is comprised of two buildings of 11 and 29 storeys high, containing office accommodation, 142 homes and retail space.
The joint owners of the scheme are Chelsfield and London & Regional Properties and the quantity surveyor is Davis Langdon.
The existing 1960s building sits between The Shell Centre and the former Eurostar terminal at Waterloo.
Lambeth planners labelled the distinctive boxy design "marmite" because it divided opinion, although the scheme did win support from the Centre for Architecture and the Built Environment (CABE).
A minimum of 20% affordable housing will be provided both within the scheme and on a separate adjacent site in Leake Street.
The approval comes three years after Allies and Morrison's previous redevelopment vision for the site was thrown out by former Secretary of State John Denham amid claims it could cause 'significant harm' to the nearby Westminster World Heritage site
Councillor Lib Peck, cabinet member for regeneration and strategic housing said: "We feel the scheme supports our vision for the regeneration of Waterloo – new jobs, affordable homes, a greater variety of shops and substantial public realm improvements.
"Better access to the train and tube will improve the interchange; a new Central Square, re-landscaping Victory Arch Square and a new pedestrian-only public space in front of the former Eurostar terminal will open up the area making it an exciting destination.
"This scheme can unlock regeneration in this run down area of central London, including the international terminal, and is a stone's throw from the South Bank.
"It can restore Waterloo's status as an employment centre and encourage further investment in the area - which is good for Waterloo, good for Lambeth and good for London as a whole."